Guidance & Resources for Special Educators
NEW! Kent ISD Special Education Supports & Resources Website
This site will provide you with the information needed to implement exceptional and equitable systems that support special educators and our students to reach their full potential. You will find resources to support IEP compliance and guidance, assistance for high-quality programming, webinars for your professional learning and tools for technology and accessibility.
Kent ISD Special Education Department
We are dedicated to providing quality programming intended to support and enhance our member districts (local school districts and public school academies). In partnership with our member districts and community partners, the department strives to improve student outcomes for all students with disabilities ages birth to 26.
There are approximately 14,000 students with disabilities served by Kent ISD's 20 local school districts, 23 public school academies and 62 nonpublic schools. Collaborative supports, guidance, resources and technical assistance is provided by Kent ISD to assist with professional development, program development, parent support, technology and legal requirements to ensure that individual and the unique needs of all students are addressed.
Kent ISD provides special education services such as Assistive Technology, Coaching for Autism Spectrum Disorder, Social-Emotional Learning and Specially Designed Instruction as well as Transition, Multi-Tiered System of Supports (Behavior, Literacy and Math), Visual Impairment/ Physical Therapy services, and Center Programming for students throughout the county.
NEW! A Parent's Guide to Navigating the IEP Process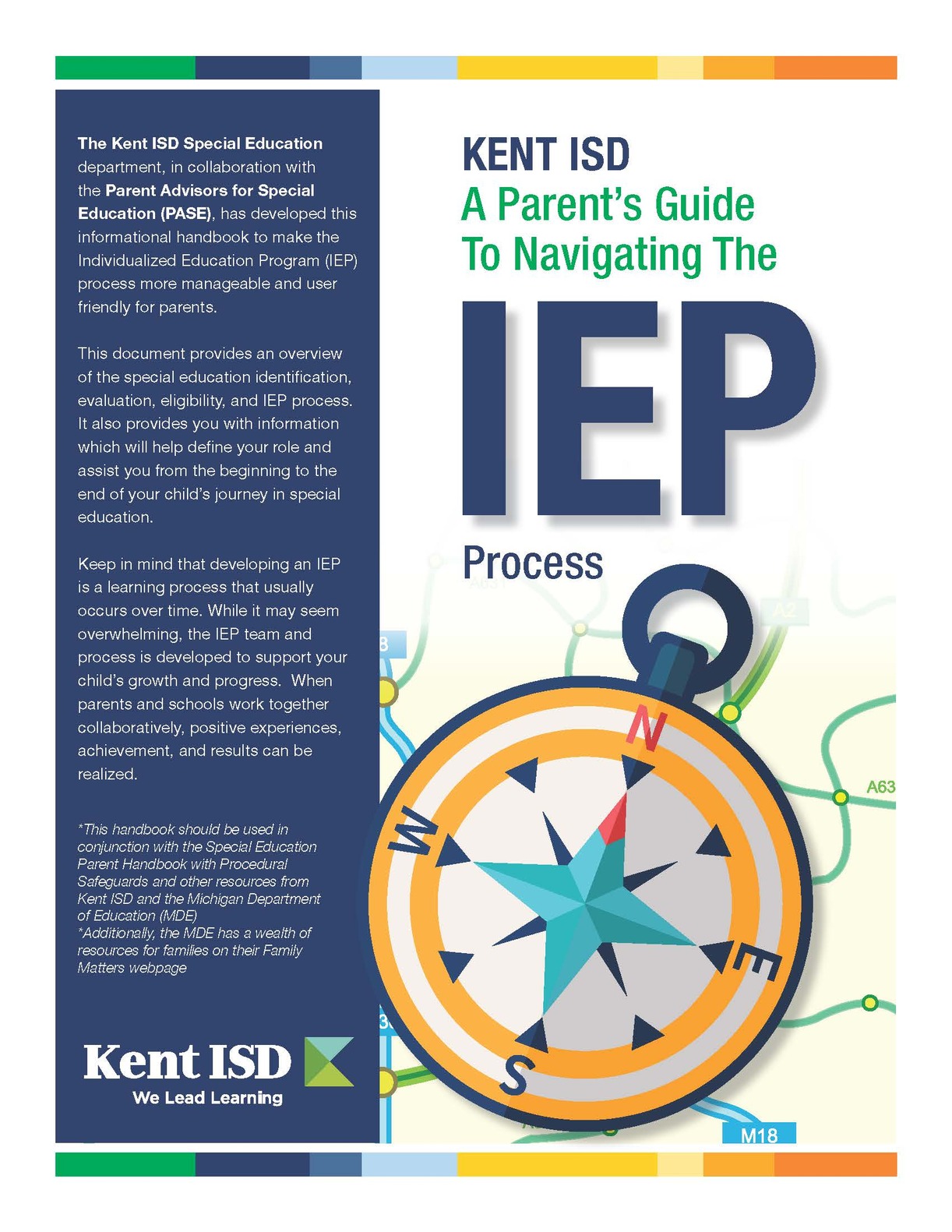 The Kent ISD Special Education department, in collaboration with the Parent Advisors for Special Education (PASE), has developed this guide to make the Individualized Education Program (IEP) process more manageable and user friendly for parents. This guide should be used in conjunction with the Special Education Parent Handbook with Procedural Safeguards and other resources from Kent ISD and the Michigan Department of Education. Click here for a Spanish version of the parent guide.