Welcome to the Future of STEM Education!
Kent ISD's STEM team provides equitable access and engagement in STEM professional learning, as well as, making connections between classroom learning and career pathways. We offer a wide range of services and supports, including writing grants to help teachers get STEM supplies; designing events to create authentic, career-based hands-on skills; providing access to try out technology before you buy; and much more.
Equitable Access and Engagement
Kent ISD's STEM team provides equitable access to high-quality STEM education for all learners. We strive to ensure that everyone has the opportunity to develop their potential through engaging activities.
Making Connections Between Classrooms and Career Pathways
We understand the importance of making connections between classroom learning and career pathways. We provide services that help teachers build bridges between the two and create a more seamless transition for students seeking employment in the field of STEM.
Authentic Hands-On Skills
Our services provide students with authentic hands-on skills they can use when they enter the workforce. We offer a variety of activities such as robotics, esports, project-based learning, 3D printing, and drone building that will give them a competitive edge in the job market.
STEM Services and Supports
We provide comprehensive
STEM services and supports
to help unlock the potential of STEM in your district. Our team of experienced educators will work with you to develop a personalized plan to bring the best that STEM has to offer into your classroom. Our turn-key lessons are developed by educators for use in the classroom and are designed to meet the needs of all learning levels. We understand that each district has unique needs and goals, so our services are tailored to meet those individual needs.
STEM Professional Learning
At Kent ISD, we offer the highest quality of professional learning in STEM, empowering educators to explore ways to infuse their teaching and learning with creativity. Our professional learning will help you build knowledge, skills, and support in a professional network. You will gain insights on the latest trends in STEM education and develop strategies for incorporating them into the classroom setting. Plus, you will have the chance to earn SCECHs for your efforts. Explore our upcoming professional learning for STEM.
skip over carousel
STEM Testimonials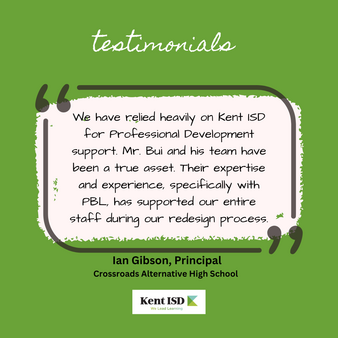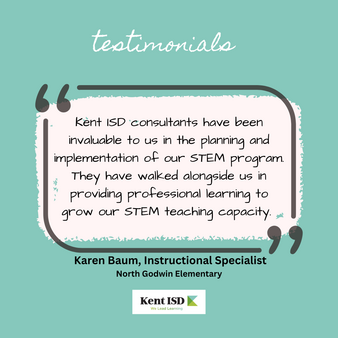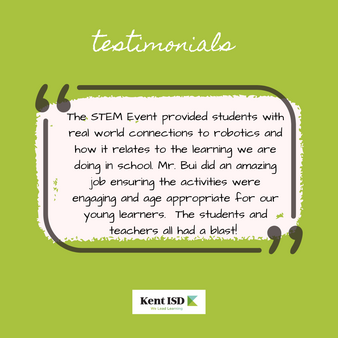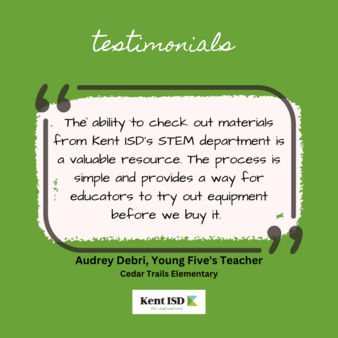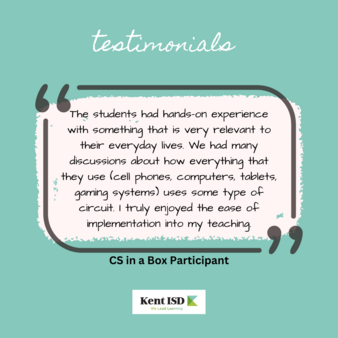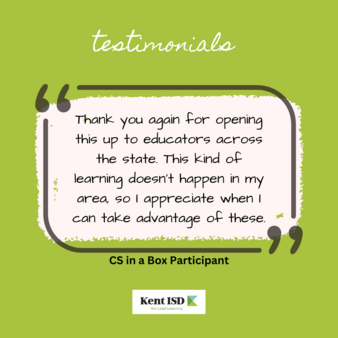 STEM Updates and News
April 24, 2023
The Rise of Esports: Why it Matters for STEM Education
College students participating in esports received $16 million in scholarship money from 2018-2019. Esports are multiplayer...
November 21, 2022
20+ Best Gift Ideas to Engage Children in STEM Learning
There are many STEM related gifts that allow kids to have fun while engaging in career-centered learning. Based on authentic...
Professional Learning Fast Facts for 2021-2022

149
Educators Attended 8 Virtual and In-Person STEM Professional Learning Opportunities

33
Local Districts and PSA's in Kent County and Educators from 33 Additional Counties in Michigan Attended STEM Professional Learning.

742
SCECHs Earned by 121 Educators in STEM Professional Learning

817
Hours of STEM Training
Stay Connected
Follow Du on Twitter