Welcome to the Future of STEM Education!
Kent ISD's STEM team provides equitable access and engagement in STEM professional learning, as well as, making connections between classroom learning and career pathways. We offer a wide range of services and supports, including writing grants to help teachers get STEM supplies; designing events to create authentic, career-based hands-on skills; providing access to try out technology before you buy; and much more.
Equitable Access and Engagement
Kent ISD's STEM team provides equitable access to high-quality STEM education for all learners. We strive to ensure that everyone has the opportunity to develop their potential through engaging activities.
Making Connections Between Classrooms and Career Pathways
We understand the importance of making connections between classroom learning and career pathways. We provide services that help teachers build bridges between the two and create a more seamless transition for students seeking employment in the field of STEM.
Authentic Hands-On Skills
Our services provide students with authentic hands-on skills they can use when they enter the workforce. We offer a variety of activities such as robotics, esports, project-based learning, 3D printing, and drone building that will give them a competitive edge in the job market.
STEM Services and Supports
We provide comprehensive
STEM services and supports
to help unlock the potential of STEM in your district. Our team of experienced educators will work with you to develop a personalized plan to bring the best that STEM has to offer into your classroom. Our turn-key lessons are developed by educators for use in the classroom and are designed to meet the needs of all learning levels. We understand that each district has unique needs and goals, so our services are tailored to meet those individual needs.
STEM Professional Learning
At Kent ISD, we offer the highest quality of professional learning in STEM, empowering educators to explore ways to infuse their teaching and learning with creativity. Our professional learning will help you build knowledge, skills, and support in a professional network. You will gain insights on the latest trends in STEM education and develop strategies for incorporating them into the classroom setting. Plus, you will have the chance to earn SCECHs for your efforts. Explore our upcoming professional learning for STEM.
skip over carousel
STEM Testimonials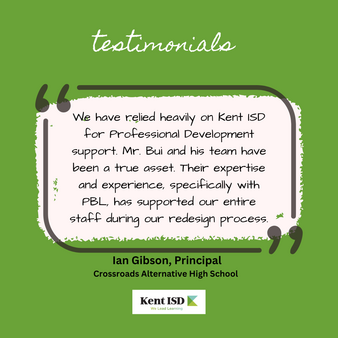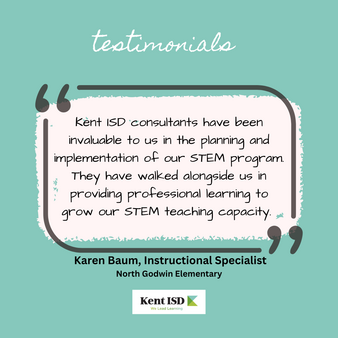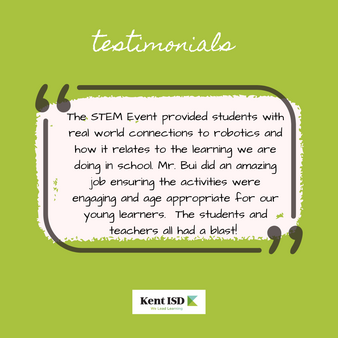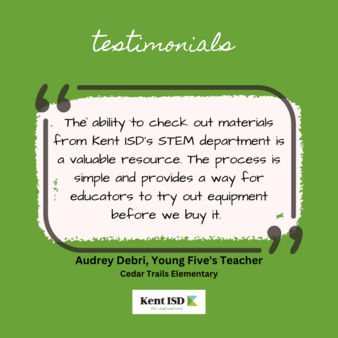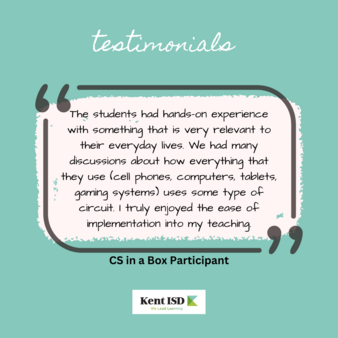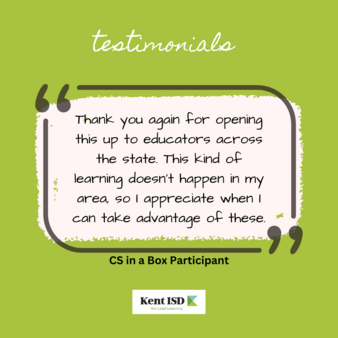 Keeping Up with STEM Education
As advocates for STEM education, our team understands the value of knowledge. We actively participate in various organizations that specialize in STEM education to keep up-to-date with the latest information, research, and trends. By being active members in these organizations, we can provide valuable insights and resources that can positively impact your district.
Some of the organizations we are a part of include:
Our goal is to empower you with the tools and knowledge necessary to make a meaningful impact in STEM education. We are committed to supporting you at every step of the way and ensuring that your voice is heard and valued.
STEM Updates and News
November 28, 2023
CSEdWeek in Michigan: Bridging Gaps in Computer Science Education
Written by Keith Tramper, Education Technology Consultant December is one of my favorite times of the year. It's a time to...
November 10, 2023
How Immersive Storytelling Transforms Education, Reaches Reluctant Readers, and Enhances SEL
Written by: Du Bui, STEM Consultant for Kent ISD As a child, I never got into the Dungeons & Dragons craze. In fact, like many...
"STEM is not a single subject, and it should not replace other subjects. Students need to learn the same concepts and skills in science and mathematics as they did before, and how to solve problems through engineering design challenges."
"STEM is also not a curriculum, but rather a way of organizing and delivering instruction. It is not another "ingredient" in the lesson "soup," but the recipe for helping learners apply their knowledge and skills, collaborate with their peers, and understand the relevance of what they are learning. This does not de-emphasize the teaching of core ideas, but rather gives students the ability to know how they can apply the content they are learning."
National Science Teaching Association (NSTA). STEM Education Teaching and Learning. https://www.nsta.org/nstas-official-positions/stem-education-teaching-and-learning
The NSTA is a highly recognized and respected association. The NSTA strongly supports STEM (science, technology, engineering, and mathematics) education that provides students with an interdisciplinary approach to learning. This document includes research and citations from many trusted authors.
---
"As a nation's economy advanced, the requirements for skilled workers increased, especially the need for intellectual skills, including those often associated with science, technology, engineering, and mathematics."
The "Case for STEM Education" e-book has multiple objectives:
contextualizes STEM education by highlighting its challenges and drawing lessons from the Sputnik moment of the 1950s and 1960s, it also contrasts contemporary STEM with other education reforms
examines appropriate roles for the federal government, states, districts, and individual schools
offers various ideas and recommendations to help you develop action plans for STEM
W. Bybee, R. (2013). The Case for STEM Education: Challenges and Opportunities. NSTApress. https://static.nsta.org/pdfs/samples/PB337Xweb.pdf
2021-2022 STEM Professional Learning Fast Facts

149
Educators Attended 8 Virtual and In-Person STEM Professional Learning Opportunities

33
Local Districts and PSA's in Kent County and Educators from 33 Additional Counties in Michigan Attended STEM Professional Learning.

742
SCECHs Earned by 121 Educators in STEM Professional Learning

817
Hours of STEM Training
Stay Connected
Follow Du on Twitter