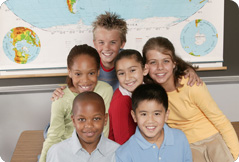 Our staff focuses on instruction and services for multilingual learners throughout Kent ISD. We build capacity with local districts through consultation, coaching, and technical assistance.
---
How We Can Support Your Local District

Communication on updates, requirements, and resources to assist Special Populations

Technical Assistance for Special Populations services, program design, evaluation, and compliance with state and federal requirements

Consultation and Coaching for staff and administrators, including new program coordinators

Coaching Cycles for staff on English Learner / Multilingual Learner instruction and supports (SCECHs available)

Curricular and resource review, alignment, and selection

Training on current state ELD standards and linguistic accommodations

Supports for working with Newcomer students

Data Reviews and Facilitated Discussions

Targeted Professional Learning
Are you in need of coaching or consultation in any of these areas? Click here to request information from the Kent ISD Student Services Department.
Current Learning Networks

EL Connect

Countywide EL Leadership Team
Casey Gordon
Supervisor of Special Populations