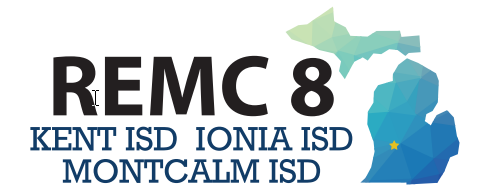 What We Do
The REMC Association of Michigan believes that it must provide proactive leadership to the Michigan educational community by participating with other organizations in building a vision that supports quality teaching and learning and provides equity to Michigan's Pre K-12 students. The REMC Association of Michigan will accomplish this within the framework of the following principles:
Improving learning for all students is our guiding principle

Through future focused collaboration, leadership, and service we are better able to support our constituents and improve teaching and learning statewide

Teachers are empowered to create high quality engaging instructional environments when they have access to the necessary skills, tools and rich sources of information

Providing effective cost savings through statewide cooperative purchasing allows local resources to be reallocated to enhancing teaching and learning

That its delivery systems and infrastructure capacity advances statewide connectivity.

For more information on Statewide programs, visit the REMC Association website.

---

Check out our Teacher Resource Center and Online Resources Pages
Location and Hours:
We're located in the rear of the Kent ISD ESC at 2930 Knapp NE. Park in Lot 10 and use the REMC entrance.
Monday - 7:30 AM – 3:45 PM
Tuesday - 7:30 AM- 3:45 PM
Wednesday - 7:30 AM – 3:45 PM
Thursday – 7:30 AM – 3:45 PM
Friday – 7:30 AM – 3:45 PM
Ellison die-cut room useage is by appointment.
Reserve your time slot by calling 616.365.2232
REMC 8 Courier Services
We provide courier service for participating school districts within Kent, Ionia and Montcalm counties. If you would like to add this service to your REMC contract, please contact Dee Miller for more information.
Click here for the 2020-2021 REMC 8 Courier Schedule