Multi-Tiered System of Supports
Achieve Academic and Behavioral Success with MTSS!
The Kent ISD MTSS Team collaborates with Michigan's Multi-Tiered System of Supports Technical Assistance Center to support our districts in developing an MTSS framework.
"Education continues to rely on the "excellent teacher" myth rather than on the "improved system" approach. Excellent teachers are a gift, and we should admire, learn from and support them. But the real issue is how to
train more "excellent teachers,"
give them curricula that really works,
and give them a system that makes it easier and more likely that excellent teaching happens by design rather than by heroic efforts to overcome the system." (Rob Horner 2013)
A Framework for Success
The MTSS framework is designed to give every student the best chance to excel academically and behaviorally in school. Evidence-based strategies are used to promote sustainable changes that support student achievement and growth. The essential components of MTSS include:
Team-Based Leadership
Tiered Delivery Systems
Selection and Implementation of Instruction, Interventions, and Supports
Comprehensive Screening & Assessment System
Continuous Data-Based Decision Making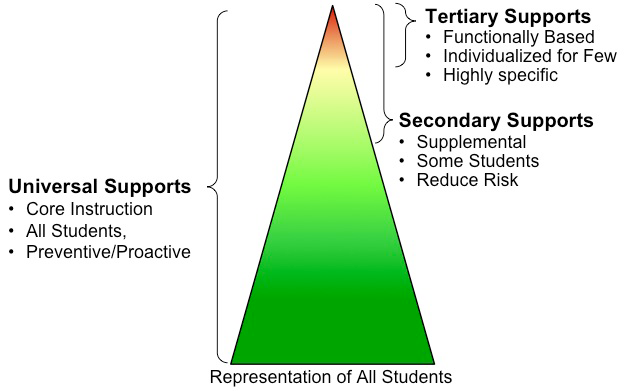 Strengthen District Capacity
Our team assists districts in developing the ability to implement efficient and effective systems support to ALL students. We offer resources and opportunities for professional learning to enhance the leadership teams of districts and cultivate an environment of collaboration and achievement.
Supporting All Students
The Kent ISD MTSS Team is dedicated to providing essential tools and practices to educators ensuring that all students and families receive support and achieve success. We aim to help all students reach their full potential through purposeful assessment, data-driven instruction, focused interventions, and continuous improvement cycles.
Supporting State Initiatives
The Kent ISD MTSS program assists teachers and staff in implementing Positive Behavior Interventions & Supports, Ongoing Data-Based Problem Solving, and Scientifically Based Reading Research throughout the district. Our services and supports includes professional learning, coaching, and technical assistance.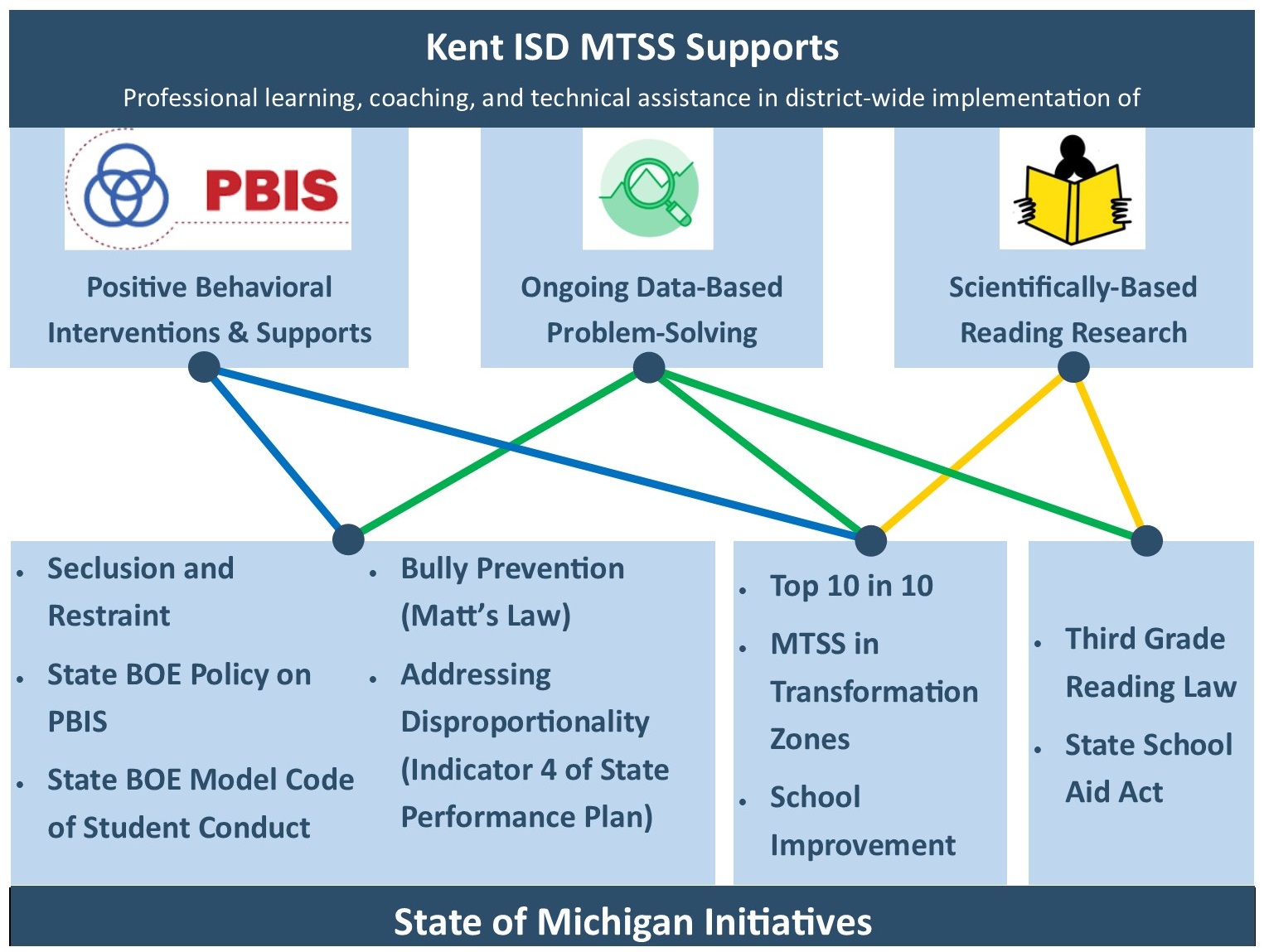 skip over carousel
MTSS Testimonials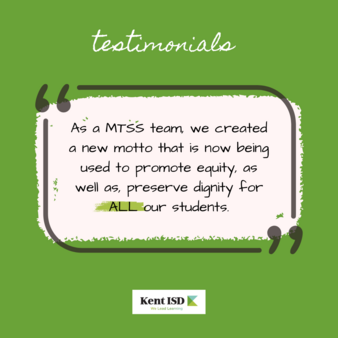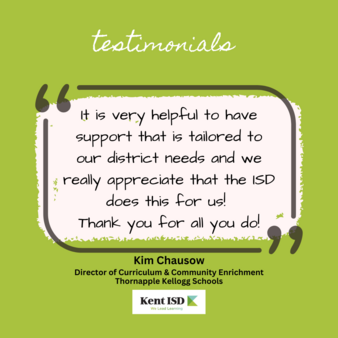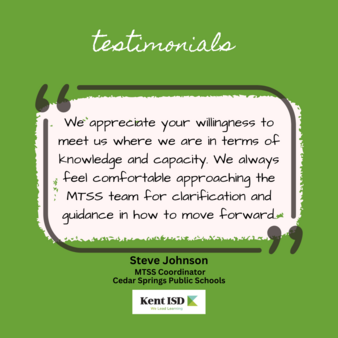 Connecting Organizations for Education Excellence
Our MTSS team maintains connections with various organizations that keep them updated on the latest research, news, and trends in education. Their top priority is to make sure that your voice is heard at every level of education. The team consists of members from The Reading League of Michigan, The ELA Network Team for Michigan Association of Intermediate Superintendent Administrators (MAISA), and The Partners in Reading Success Group.
MTSS News & Updates
November 29, 2022
Congratulations Kent ISD Partner Schools on MTSS Recognition of Excellence
While all of the districts in Kent ISD are engaged in this extremely difficult work, some are getting state-level recognition...
May 18, 2022
Define Your Classroom Expectations with CHAMPS
Creating a classroom environment that is welcoming, structured, and has an overall positive feel is something all educators...
IES MTSS B Trial: Key Takeaways for District and State Leaders (January 2023):
Multiple rigorous studies show that PBIS has the potential to improve a range of student outcomes.
Tier 1 PBIS can be most effective for the students who need it most.
Don't expect PBIS to improve academic achievement without a focus on improving the quality of academic instruction.
Supporting teachers' implementation of classroom PBIS practices is critical for improving student outcomes.
Establishing district capacity may be necessary for sustainable improvement in outcomes.
2022-2023 MTSS Professional Learning Fast Facts

1,198
Educators Attended 138 Virtual and In-Person MTSS Professional Learning Opportunities

3,782
SCECHs Earned By 472 Educators

35
Districts and PSA's in Kent County Participated in MTSS Professional Learning Opportunities, Along With Educators From 16 Other Counties in Michigan.

5,758.5
Hours of Training
MTSS Implementation Team
Kirsten Rice, MTSS Coordinator
John Mudie, MTSS Consultant
Mark Raffler, Educational Consultant (ELA/SS)
Julie Hartman, Continuous Improvement Consultant
Laura Otten, Continuous Improvement Consultant
Stephanie Villalta, Continuous Improvement Consultant
Are you interested in learning more about MTSS or do you have a question?
Send a message to the MTSS Implementation Team.