5/13

2013-2014 Professional Learning Plan

9/27

The time to innovate is now...

NovaNow 2013

NovaNow

is a conference for educators to share their ideas, plans, and dreams about learning.

10/3

Assistive Technology Extravaganza is back!

Learn about tools and strategies to address the needs of student's in general education/team-taught classrooms as well as categorical and center-base elementary and secondary classrooms.

---
Professional Learning through Kent ISD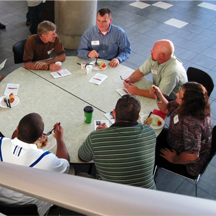 Kent ISD is striving to bring the latest professional learning opportunities to your district. We have done the research and found the best presenters and courses available. We have aligned our professional learning offerings to the School Improvement Framework (SIF) and offer many courses for SCECHs, Graduate credit and Social Worker CE credits. We have a "Learning On Demand" feature so you can get professional learning when and where you want it, as well as, a "Learning to Go" menu so you can bring professional learning opportunities to your district or school. Read more about how Kent ISD is working to make you the best educator you can be.

Please take this survey to give us feedback on our new website.