Vendor Opportunities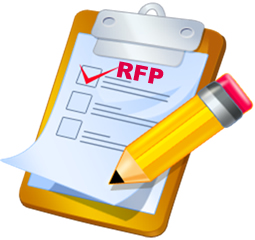 The Kent ISD uses Buy4Michigan for most bidding purposes/purchases. Visit Buy4Michigan.com for more information.
Please also send your contact information with a brief description of your services/products to cindymeyer@kentisd.org
Current Bids
2016 KCTC/KTC PA/Bell System Replacement (to be reissued)
Closed Bids
2016 KCTC Hospitality/Culinary Kitchen Remodel - Tabulation
2016 Kent ISD Knapp Driveway Improvements - Tabulation
2016 Kent ISD A-Wing HVAC Project - Tabulation
2016 WAN Project - Tabulation
2016 KCTC Door Replacement Project - Tabulation
2016 Kent ISD EPDM Roofing Project - Tabulation
2016 Kent ISD ESC Generator System Upgrade - Tabulation
2016 Kent ISD Surveillance Camera Project - Tabulation
Frequently Asked Questions
Is there a cost to register?
Buy4Michigan - There is no cost to register/view bids.
What about notifications/addendums/questions on the bids?
Any addendums to the bids will be posted on Buy4Michigan. If you have selected to receive notifications for a certain bid, you will receive an email update when any change has been posted.
Questions on the bid or specifications?
Post them to the bid! You will see a link to questions and answers. Your questions will be posted and when we have an answer for you, we will post it on Buy4Michigan.
Kent ISD will be a place where all persons feel welcomed, have a right to be treated equitably and without prejudice and have a responsibility to treat others the same way. Kent Intermediate School District is an equal opportunity institution. Kent ISD does not discrimate on the basis of race, creed, color, national origin, age, sex or physical/mental disability or veteran status in its educational programming, enrollment, employment or contracting.
Did you Know?

---
On a daily basis, our Custodial Team cleans nearly 300,000 SF of a total 447,065 SF at our Beltline Campus.
The Maintenance Team is responsible for maintenance and repairs for 564,552 SF of building space.
The Facilities Department manages 11 buildings.
Our Buildings can be found in four different zip codes.
One of our buildings contains a swimming pool.
Our Data Center supports nearly 15 School Districts here in Kent County.