Welcome to Kent ISD
Welcome to Kent ISD
Kent ISD is a regional educational service agency devoted to achievement for all students. We provide instructional and administrative services to more than 300 schools, 20 public districts, three non-public districts, and many public school academies and non-public schools within our boundaries. We serve the broader community by helping our schools prepare nearly 120,000 students for school and life success.
We help districts devote more dollars directly to the classroom by providing essential services, collaborative initiatives and valuable learning for the region's students and teachers. Regional collaboration is the way we work, both with our school districts and our community partners. Together, we lead learning for the region.
Join the 3D Printer Challenge today!
Our Vision:
Kent ISD will be the community's first choice for educational services so that every student in every classroom achieves every day.
Our Mission:
Kent ISD serves our customers by providing value-added services through collaboration and leadership for learning.
Our Core Values:
Customer Satisfaction, Continuous Improvement, Accountability, Community Partnerships, Collaboration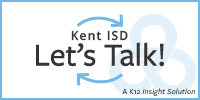 Have something you'd like to share with us? A question, concern or just a comment? Let's talk!
Public District Links

Private Schools & Public School Academies