April 2, 2020
Gov. Whitmer Announces K-12 School Buildings to Remain Closed Through End of School Year
Gov. Whitmer released an executive order closing K-12 school buildings across Michigan through the end of the academic year. While this means that face-to-face learning is done for the school year, districts will be required to create continuity of learning plans and provide distance learning to students in some form. Each district's plan will be developed individually to address the unique needs of their student population with guidance and approval from Kent ISD.
Please refer to your individual district for their plan going forward which are to be implemented by mid to late April. While plans will vary by district, learning methods may include a combination of phone, internet, paper packets, public access television and other tools. Note that the Governor's order indicates that students will not be penalized for inability to participate in learning due to lack of access or other barriers during the closure.
The full text of the order can be found on Michigan.gov: Executive Order 2020-35
Updated March 27, 2020, 3:05 pm
Food Plans for Kent ISD School Districts
Families are invited to pick up meals for any child ages 18 and under, and students with disabilities ages 18-26 with an active IEP. The Michigan Department of Education recently granted flexibility in the federal guidelines so schools are allowed to serve meals which families can simply come pick up.
Most districts are offering both breakfast and lunch foods and many are packaging multiple meals to pick up. Some districts are also offering delivery or neighborhood drop-off, so families may want to visit their district's website or social media for additional details. Ending dates vary, so families are encouraged to ask for that information at the school. For information on other food assistance in Kent county, visit helpkent.org's interactive food distribution map: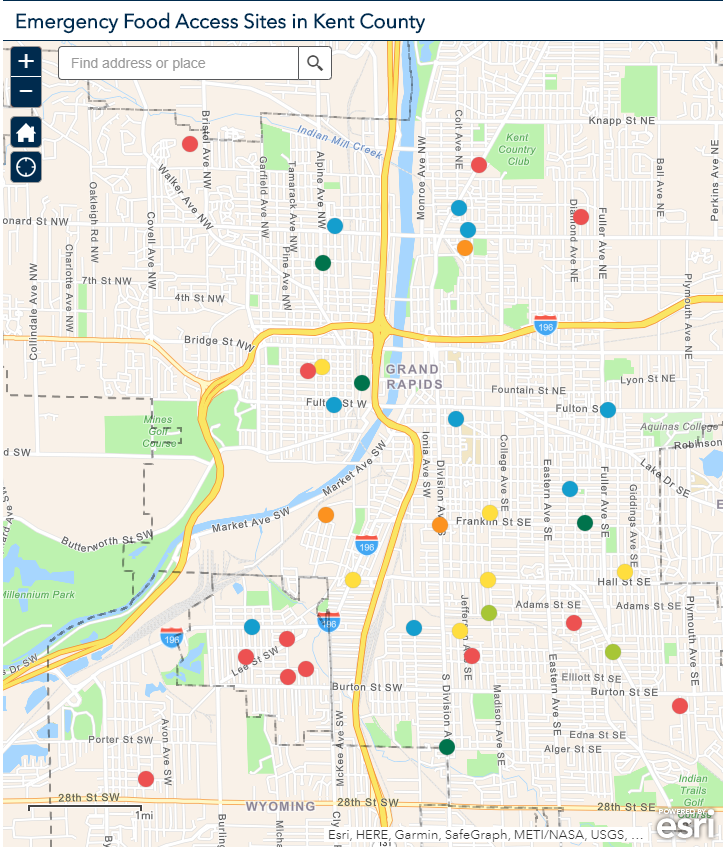 See the full article for details.
---
A message from the Kent County Health Department
As the number of people who test positive for COVID-19 (Coronavirus) begins to climb in Kent County, inevitably we will have students, staff, and family members who will be among those infected by COVID-19. Our school is in frequent communication with the Kent County Health Department during this difficult time. The Health Department is responsible for monitoring the incidence of COVID-19 in our community. Those who test positive are contacted by the Health Department and those people who meet the CDC definition of a close contact are also notified. The Health Department staff orients cases and their close contacts about the need for isolation or quarantine. While only a portion of our community will require quarantine, all of us should be monitoring for symptoms, maintaining a safe distance from other people whenever possible, staying home unless it is essential to go out, and washing hands and surfaces frequently. These steps are good for everyone, whether you have had exposure or not. As a school, we will not be informing our school families every time one of our students tests positive unless there is a specific reason to do so. We want to respect the confidentiality of each family. The Health Department is very diligent in their contact investigation and surveillance. Since school has not been in session for thirteen days, the Kent County Health Department has informed us that the likelihood that your child was exposed to COVID-19 in the school setting is extremely low. If you have specific questions or concerns, please reach out to the Health Department at 632-7228.
Health Department Message (Espanol)
A medida que el número de personas que dan positivo para COVID-19 (Coronavirus) comienza a subir en el condado de Kent, inevitablemente tendremos estudiantes, personal y familiares que estarán entre los infectados por COVID-19. Nuestra escuela está en comunicación frecuente con el Departamento de Salud del Condado de Kent durante este momento difícil. El Departamento de Salud es responsable de monitorear la incidencia de COVID-19 en nuestra comunidad. Aquellos que dan positivo son contactados por el Departamento de Salud y aquellas personas que cumplen con la definición de contacto cercano del CDC también son notificados. El personal del Departamento de Salud orienta a los casos y las personas que tuvieron contacto cercano con ellos sobre la necesidad de aislamiento o cuarentena. Si bien sólo una parte de nuestra comunidad requerirá cuarentena, todos debemos monitorear los síntomas, mantener una distancia segura de otras personas siempre que sea posible, permanecer en casa a menos que sea esencial salir, y lavarnos las manos y limpiar las superficies con frecuencia. Estos pasos son buenos para todos, ya sea que haya tenido exposición al virus o no. Como escuela, no informaremos a nuestras familias escolares cada vez que uno de nuestros estudiantes resulte positivo a menos que haya una razón específica para hacerlo. Queremos respetar la confidencialidad de cada familia. El Departamento de Salud es muy diligente en su investigación y vigilancia constantes. Dado que la escuela ha estado cerrada durante trece días, el Departamento de Salud del Condado de Kent nos ha informado que la probabilidad de que su hijo haya estado expuesto a COVID-19 en el entorno escolar es extremadamente baja. Si tiene preguntas o inquietudes específicas, comuníquese con el Departamento de Salud al 632-7228.
Kent ISD's highest concern will always be the welfare of our students, staff and school communities. We are coordinating directly and daily with Kent County Health Department and local and regional superintendents to ensure safety for all. Please know we are doing everything possible to prepare for and prevent the spread of Coronavirus and all other communicable diseases.
While a new type of illness can be scary, we can protect our students, teachers, and the broader community by using simple everyday actions that protect people from other types of respiratory viruses. Our staff are working carefully to encourage these simple and effective habits:
Informational Resources
Find updates, best practices for individuals and organizations and other information about COVID-19 from these sources:
For Schools
For the Public
Local School District Updates
The links below will take you directly to the COVID-19 update and closure information pages of our 20 school districts.