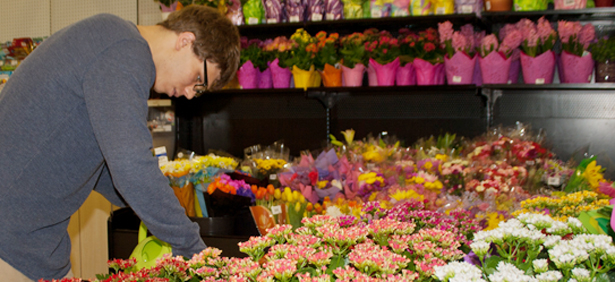 Earn high school credit while receiving job training in a real work environment!
After you've successfully completed your first year in a classroom setting at the Kent Transition Center, you can enter our second year Internship Program and develop your career skills at an actual job site. You'll be placed at a business that aligns with your first year program and work alongside their employees to build your current skills and learn new ones! An Internship Facilitator will visit you monthly and you'll see your Employment Training Specialist every week. Both of these staff members are dedicated to helping you achieve success throughout your entire training experience.
• Apply what you've learned during your first year at KTC
• Gain valuable training from actual employees at real worksites
• Develop your hands-on and employability skills
• Learn how to work together as a member of a team
• Make connections with people in your chosen industry
• Build an impressive work experience resume
Meet Our Internship Facilitators
Mike Kelley
Hello! My name is Mike Kelley and I am the Internship Facilitator for Regions 3 and 4. Included in these regions are Grand Rapids Public Schools and all the school districts located within the southwest corner of Kent County. I have been at Kent Transition Center (KTC) for the last nine years and taught in Grand Rapids Public Schools for 16 years prior to coming to KTC. I have several advanced degrees and enjoy learning about current issues in education. Before becoming an educator, I held various positions within the private sector relating to customer service, sales, management, and construction.
My wife, Angie, and I have three children. I enjoy working in the garden, building things, and playing guitar. What I like best about being a teacher is having the opportunity to help students who are struggling in school and I enjoy watching students succeed in real work environments.
Ben Trentham
Hello! My name is Ben Trentham and I am the Internship Facilitator for Regions 1 and 2. These areas include Caledonia, Cedar Springs, Comstock Park, East Grand Rapids, Forest Hills, Kenowa Hills, Kent City, Kentwood, Lowell, Northview, Rockford, Sparta, and Thornapple Kellogg I visit students at least once per month, and am responsible for maintaining their attendance records, grades, and collaborating with my team and local schools districts (LEA's) to ensure each student reaches their fullest potential.
I was born and raised in Holt, Michigan, which is just outside of Lansing. After high school, I attended Eastern Michigan University where I received a Bachelor's in Special Education with endorsements in Cognitive Impairments and Secondary Education. While at Eastern, I had the opportunity to participate in teacher-assisting and student teaching at Chelsea High School, Pathfinder Middle School (Pickney, Michigan), and Okemos High School. I moved to Grand Rapids in 2010 and began teaching for Grand Rapids Public Schools, where I also acted as the assistant varsity baseball coach. I am currently working on completion of a Master's degree in Special Education at Grand Valley State University.
During my free time, I enjoy all sports (mostly baseball), watching tv and movies, spending time with friends and family, and visiting cities around the country.
Meet the Employment Training Specialists
Holly Nichols
Hello! My name is Holly Nichols and I have worked on the Kent ISD campus as an Employment Training Specialist and Career and Technical Education Specialist for 30 years. I have held my current position in the Internship program for the last 13 years. I spend my days providing on-going support to the intern students and developing training sites in the Region 3 area of Kent County, which encompasses Wyoming, Grandville and Byron Center. I spent my prior years working in the former KTC Manufacturing program and the Electro-Mechanical & HVAC programs at Kent Career Technical Center.
I have an Associate of Arts degree from Grand Rapids Community College, an Associate of Applied Science degree from Ferris State University, and am certified as a Global Career Development Facilitator. Through the YWCA Jobs Network, I received training in the areas of electrical, carpentry, plumbing, sheet metal fabrication, and mechanical drafting.
In my free time I enjoy camping, fishing, canoeing and spending time with family and friends.
Brenda Brower
Hello! My name is Brenda Brower. I joined the Internship team 9 years ago. I am certified as an Employment Training Specialist, and came with four years of similar experience from the Region 1 Transition Program where I ran the Resale store, helped teach life skills and placed students in businesses in the community for work experience. Prior to working in education, I spent 20 years at D & W as a customer service manager and human resources manager and gained experience in store operations, customer service, training, scheduling, evaluating, disciplining employees and staffing the stores.
My favorite thing about the Transition Center is seeing the students growth throughout the school year. The Internship Program is the last stop in high school for these students and it helps them understand what businesses expect from them in the workforce. We strive to help the students achieve success at their training sites.
My husband, Scott, and I have three children and six grandsons. I am a dog lover, a University of Michigan football fan, and enjoy exploring Michigan's northern area.

Susan Balas
Hi! This is my fourth year working at Kent Transition Center, starting as a Career Tech Specialist in the CORE program. This was a brand new program when I began. I really enjoyed working for KTC at an offsite location - the Mary Free Bed YMCA and now look forward to working with 2nd year KTC students as they intern at local businesses. I find working with our students very rewarding as well as challenging, as they step into young adulthood, working on skills needed to prepare them for life beyond high school.
I began my career in special education about 20 years ago. I had been taking college classes but wanted to be around for my growing family and decided to volunteer at my son's elementary school as a cafeteria lunchroom aid. I loved working with the students and when a part-time substitute aid position came open at the local junior high, I jumped on it. It was in a special education room and I loved it and never looked back, thus bringing me to where I am today.
My husband, Craig, and I have three grown sons, Ryan, Devon and Alec. We have two daughter-in-laws and two grandchildren. We also have two very sweet and well-behaved adopted pit bull terriers, Rigby and Mia. I love spending time with family and friends. My hobbies are reading, gardening, exercising, and I love going to our cabin in Traverse City. I also enjoy shopping and going to the movies.
Ashley Craddock