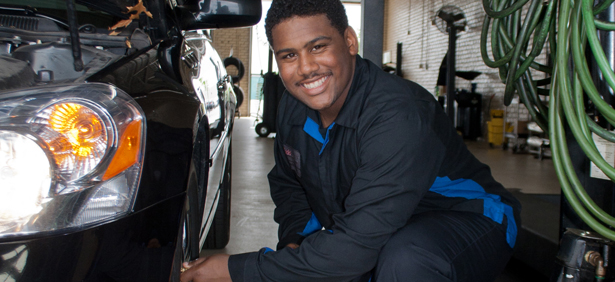 If you like cars, trucks and related equipment, join us for expert training on state-of-the-art equipment. Learn about the vehicle industry and how to service a variety of customer vehicles.
You can learn:
General maintenance servicing of vehicles
Replacement of engine coolant, engine oil, transmission fluid, power steering fluid
Tire service including mounting, balancing, rotating, failure analysis, repairing and customer wheel service
Complete detailing, including finish restoration and car prep
Basic car care services such as safety inspection and lamp replacement
Hand Tool and shop safety identification and usage
Electrical system repair and diagnosis
Meet Our Instructional Staff
Clayton Powell
Hello! I am Clayton Powell, Kent Transition Center Automotive Instructor. I am excited to work at KTC and enjoy seeing that moment when the students grasp a concept and really get excited about their learning. One of the best things about my job is sharing ideas and knowledge with the students and watching them grow throughout the school year.
Industry Experience
5 years as a technician in General Motors Dealerships
19 years teaching Automotive Technology
Adjunct Instructor for Montcalm Community College
Education & Certifications
Master's in Education, Spring Arbor University
Bachelor's in Technical Education, Ferris State University
Associate Degree, Ferris State University
Brakes
Electrical
Engine Repair
Engine Performance
Steering/Suspension
Maintenance and Light Repair
More About Me
My wife Kelly and I have two children, Bryson and Delaney. The kids keep us busy as they participate in many activities ranging from sports to boy and girl scouts. During our free time we also enjoy camping.
Dan Pipe
Hi! I'm Dan Pipe, Career Technical Education Specialist in KTC's automotive program. I've been working with KTC students for six years. I assist students learning to perform detailing services, oil changes, tire work and more. It's a great experience to put tools in the hands of young adults and watch them grow and learn.
I first started working with students during an internship after college, in museum programming and social-emotional learning programs. More recently, I worked as a substitute teacher here at KTC. I found this experience in particular so rewarding. I stayed. The staff here, and their commitment to the students they work with, keep me every bit as inspired as the students themselves.
My wife and I are raising three school age children and we seem to have the "Kool-aid house" in our neighborhood, with extra kids always hanging around. Our house is always a vibrant, busy place. My hobbies include gardening, cooking, art, and medieval reenactment.
Daniel Pipe
CTE Specialist - Automotive