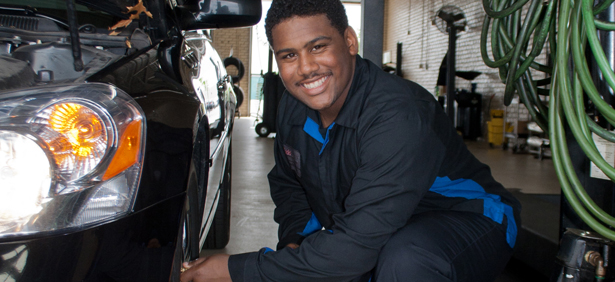 If you like cars, trucks and related equipment, join us for expert training on state-of-the-art equipment. Learn about the vehicle industry and how to service a variety of customer vehicles.
You can learn:
General maintenance servicing of vehicles
Replacement of engine coolant, engine oil, transmission fluid, power steering fluid
Tire service including mounting, balancing, rotating, failure analysis, repairing and customer wheel service
Complete detailing, including finish restoration and car prep
Basic car care services such as safety inspection and lamp replacement
Hand Tool and shop safety identification and usage
Electrical system repair and diagnosis
Meet Our Instructional Staff

Mike Kiekover

Greetings! I am Mike Kiekover, Automotive Instructor at Kent Transition Center. I am excited to work at KTC and look forward to meeting you or having you as a student! Learning alongside you, and working with you to grasp what can be complicated concepts is real joy and responsibility I take seriously. I love working with students and helping them along their way toward adulthood.
Industry Experience
Over 30 years in the automotive industry
16 years in Nigeria, W. Africa, training and working with Nigerians
2 years teaching Adult Education Intro to Automotive Servicing
Education & Certifications
Bachelor's in Technical Education, Ferris State University
Associate Degree, Grand Rapids Community College
ASE Master Mechanic
ASE L1 Certified (Advanced Engine Performance Specialist)
ASE G1 (Maintenance and Light Repair)
More About Me
My wife, Hauwa, and I have two young children, Kayla and Selena. We have an active household and love being outside whenever weather permits.