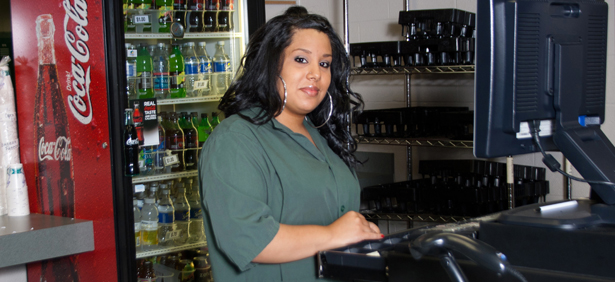 If working with people, products and money sounds exciting to you, explore the world of retail. Gain general retail skills in stocking, pricing, displays, cashiering, merchandising, and customer service. Come see what's in store!
You Can Learn...
Stocking, replenishment and inventory
Sales and customer service skills
Retail math and cash register operation
Workplace safety
Merchandising and display
Operation of coffee and espresso makers
Operation of popcorn machine
Operation of virtual business software
Gift Store Retail Marketing...
Students study the 4 P's of Marketing:
Product
Price
Place
Promotion
Meet Our Instructional Staff
Renee LaFurgey
Hello! I am Mrs. LaFurgey, a Retail Marketing Instructor at Kent Transition Center. I was very excited to come to KTC in the fall of 2004, after teaching business at East Kentwood and before that writing and producing commercials at WOOD TV for 10 years. I really like sharing my marketing knowledge and passion for business with students. I love watching students grow and develop in retail so they are ready to get good jobs in this exciting pathway. I also love learning and am working on an English as Second Language endorsement to add to my teaching credentials.

Industry Experience
Marketing Writer Producer at WOOD TV 8
Summer Camp Teacher and Kid Zone Staff at Mary Free Bed YMCA
Merchandising and Product Sales at Kohl's Department Store and Pottery Barn
Front Desk Hotel Clerk at Mackinac Island
Education
Master's of Education and Business from Aquinas College
Vocation endorsement in Marketing
Learning Disabilities endorsement
My husband, Joe, and I have three children, Adam, Morgan and Candice, and a golden retriever named Kauai. My husband has worked in the news industry, at 24 Hour News 8 for over 27 years, so I love to watch WOOD TV 8!


When I am not teaching, I enjoy spending time with family, friends, and doing outdoor activities like boating, gardening, traveling, and community events like Art Prize. To have fun in the summer and keep active with kids, I am a summer camp teacher at the YMCA. Two fun facts about me are that I taught in India with Teachers for Global Classrooms and here is a picture of me standing by one of the new Seven Wonders of the World ... the Taj Mahal.

Kyle Retan

Hello! My name is Kyle and I am the Career Tech Specialist in the Retail Marketing program at Kent Transition Center. I am excited to be starting my third year at the Transition Center and I love it! One of the coolest things about KTC is not only are students learning valuable skills to help them get great jobs, they are also having fun!
I earned my bachelor's degree in elementary education, always thinking I would be an elementary teacher. Before coming to KTC I worked at Wyoming Junior High. Once I spent time in the classroom with older students, I was hooked! I think one of the best things about working with high school students is that they get my jokes!
To put myself through college I worked at a local health club. I started out part time and worked up to management. This job allowed me to gain a wide range of skills and experience in retail. I have an Associates degree from Grand Rapids Community College and a Bachelor's degree in Elementary Education from Grand Valley State University.
My husband, Eric is a math teacher. We have 4 kids and one grand-daughter. They keep us very busy as they are all involved in many activities. We enjoy our summers together and travel as much as possible.
Kyle Retan
Instructor, Retial Marketing
Phone: 616-447-2491

Send me a message
Alicia Gonzalez
CTE Specialist - Retail Marketing
Phone: 616-365-2373

Send me a message