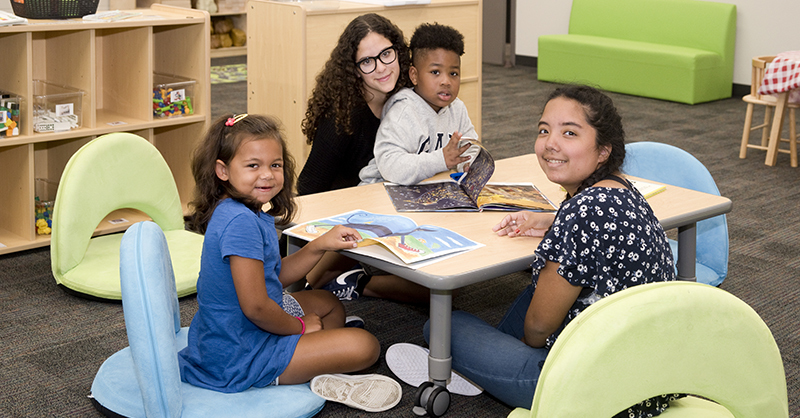 Careers in the Human Services pathway are related to economic, political, and social systems. If you like helping families, working with children and older adults, and community partners then come join our fun and energetic team. Families are our future!
You Can Learn ...
Human Services Career Cluster Exploration
Child Care Careers
Safety and Sanitation, First-Aid & CPR Certification
Introduction to Certified Nurse Assistant (CNA) training
Developmentally Appropriate Practices
Ages & Stages of Life Cycle
Creating Learning Activities
Nutrition and Health
Working with Families & Communities
Students considering this program:
Have excellent punctuality and attendance
Can communicate well with peers, parents and children
Enjoys helping people and solving problems
Has a passion for working with families and communities
Is loving, caring, energetic and friendly
Likes reading, storytelling, traveling, or tutoring young children?
Child & Family Care Business Partners include:
Grand Rapids Community College, AppleTree Learning Center, Kent ISD Early On, Lincoln School, White Early Child Care Center, YMCA, Orchard Hill Childcare center, Rainbow Childcare, Porter Hills
Chile & Family Care Sneak Peak
Meet our Instructional Staff
Teyondra Burch, Instructor

Hi, I'm Ms. Tey! This is my 5th year at the Transition Center. I started as the CTE or Career Tech Education Specialist for the Child & Family Care classroom, making sure that the needs of the students were met and also assist the teacher in the classroom with planning and implementing ideas. In January of 2021, I became the instructor of this program and am so excited for this opportunity!
I hold childcare certifications in CPR/First Aid, Cognitive Coaching, & Safe-Schools. I also have a Bachelor's Degree in Child Development and Sociology, with a Youth Concentration, from Central Michigan University. I have been working with children since I was in the 10th grade. I have experience in After School/Summer programs, Day Cares, as well as being a Reading Specialist and now a Career Tech Specialist. I also have a small business tutoring elementary students.
I enjoy watching football, shopping, and playing with my son.

Ashley Craddock, CTE Specialist

Hi! I'm Ashley Craddock. I started at Kent Transition Center in the Work-Based Learning program as an Employment Training Specialist for Region 2 (East Kentwood, Caledonia, Thornapple Kellogg, Crossroads, and Grand River Prep). I enjoyed supporting students as they experience real-life on-the-job training and the opportunity to solidify a job before they graduate from high school. In August 2021, I will begin a new opportunity with KTC as the CTE (Career Tech Education) Specialist in our Child & Family Care program! I look forward to supporting the students and assisting Mrs. Tey!
Originally from Fresno, California, I spent my early post-college years as an Assistant Manager at Abercrombie and Fitch, an Account Executive for NBC and CBS, and high school Job Coach for Fresno Unified School District. However, my time at Kent ISD has absolutely sparked a newfound passion and purpose in the work that I do. Working with our students, and sharing my knowledge to best assist them in their personal growth, as they prepare for adulthood post-high school has been a joy.
I have a Bachelor of Arts degree from California State University, Los Angeles—where I was also on scholarship to compete for the women's track and field team. I'm currently in graduate school pursuing a Master of Arts degree in Special Education with a concentration in Applied Behavior Analysis at Arizona State University. I also hold an Employment Training Specialist certificate through the Michigan Association of People Supporting Employment First.
In my free time I enjoy working out, spending time with family and friends, being outdoors, and exploring new restaurants.