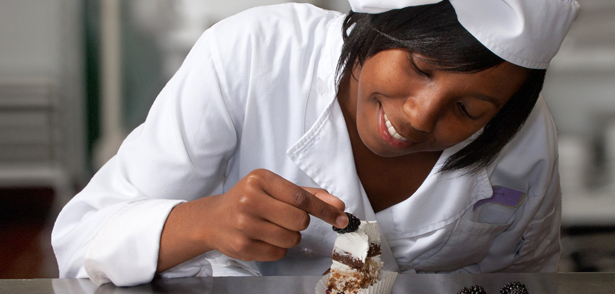 If you can handle the heat in the kitchen, come sizzle with us! Join our energetic and fast-paced team in the Hospitality Program. You'll learn a wide range of skills in cooking, baking and food preparation, plus teamwork.
You Can Learn...
Safety and sanitation
Food and meal preparation
Equipment operation
Multi-tasking
Meet Our Instructional Staff
Ryan Marklevitz
Hello! My name is Ryan Marklevitz, and I am the KTC Hospitality/Culinary Instructor. I have been at Kent ISD since 2009, working at both KCTC and KTC. Being a culinary instructor at Kent ISD has been a gift that I have enjoyed very much. Helping students succeed through hands on experiences is one of the best parts of my job. Along with my education and many years of experience in the culinary field, I am also a veteran of the United States Navy where I served on a submarine.

Industry Experience
18 years of cooking and serving in numerous Michigan restaurants
4 years cooking on the USS Scranton
Adjunct Professor for Grand Valley State University
Education
Master's in Educational Technology from Central Michigan University
Bachelor's in Technical Education from Ferris State University
Associate in Culinary from Grand Rapids Community College

Cindy Saltzman
Hi! My name is Cindy Saltzman. I work as the Career Technical Education Specialist in the Hospitality/Culinary program. The best part of working at KTC is being able to work with such a caring staff, and of course, seeing my students' smiling faces every day!

I have an Associate's Degree in Child Development, specializing in children with special needs. I did my student teaching, and subbed, at a school devoted to students with special needs of many different kinds, ranging in age from 4-26.
In my free time I love to read, plan parties, and go camping and fishing with my family.
Ryan Marklevitz
Instructor, Hospitality and Culinary
Cindy Saltzman
CTE Specialist - Hospitality and Culinary