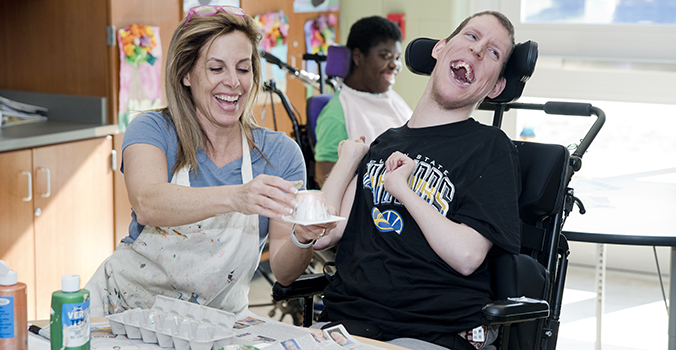 Pine Grove Learning Center
About Pine Grove
Pine Grove serves students with special needs from Kindergarten through age 26. Students at Pine Grove have moderate to sever cognitive impairments, are severely multiply impaired, or have autism. Pine Grove is part of the Lincoln Campus continuum and is staffed with caring and dedicated professionals who feel privileged to support learning for all students.
Programming includes speech, physical and occupational therapy as well as art and music therapy. Students also experience sensory room opportunities, adapted physical education and aquatics in a therapeutic pool. The MOVE (Mobility, Opportunity Via Education) philosophy and Positive Behavior Intervention Support (PBIS) are woven into instruction.
Pine Grove students and staff utilize the acronym HAWK which stands for Helpful, Aware, Willing, Kind to guide how to work together. Pine Grove facilities allow students to utilize the hallway and other open spaces for therapy. A courtyard garden, kitchen and laundry area enable practice and incorporation of daily living skills into learning. In addition to alignment with the Michigan Essential Elements and the Michigan Curriculum Framework, an emphasis on communication and activities of daily living are embedded in teaching and learning at Pine Grove.
Pine Grove provides programs and services on behalf of the member districts in Kent County. Enrollment is determined through the Individual Education Program (IEP) team process.
Here is a link to view our Special Education Directory of service providers in Kent County area schools.
Principal - Laura Ochoa
Laura Ochoa
lauraochoa@kentisd.org
Get to know our principal
Laura Ochoa began a career in education in 1999 after working in business and the healthcare field. Laura has a teaching certificate with endorsements in cognitive and emotional impairments. She held a variety of teaching positions in general and special education classrooms and taught at the elementary, middle school and high school levels. Laura became a school administrator in 2009 and has since served as a special education supervisor, curriculum coordinator and principal/administrator at KVO (Kent Vocational Options), Project SEARCH, Community Transition Campus and as a co-principal at Lincoln School. She joined the Pine Grove family as principal in 2019.
Laura genuinely enjoys working with students with special need and says, "One of the most amazing aspects of my job is that I get to do what I love. Each day I am able to work with students, the staff who teach and support them and the parents who entrust them to our team. It is very rewarding to see students grow, explore, and make academic and social gains."
Laura's vision
Pine Grove Learning Center is a school where students are challenged to learn and grow in a positive learning environment. The learning is supported by talented and dedicated staff who use the curriculum as a guide for instruction geared to meet the needs of each student. Together with parents, the staff at Pine Grove seek out the best approach to instruct each student to communicate and develop skills needed for life.