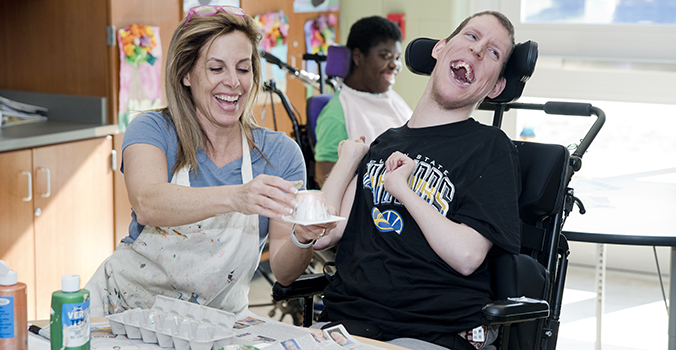 Pine Grove Learning Center
About Pine Grove
Pine Grove serves students with special needs from Kindergarten through age 26. Students at Pine Grove have moderate to sever cognitive impairments, are severly multiply impaired, or have autism. Pine Grove is part of the Lincoln Campus continuum and is staffed with caring and dedicated professionals who feel privileged to support learning for all students.
Programming includes speech, physical and occupational therapy as well as art and music therapy. Students also experience sensory room opportunities, adapted physical education and aquatics in a therapeutic pool. The MOVE (Mobility, Opportunity Via Education) philosophy and Positive Behavior Intervention Support (PBIS) are woven into instruction.
Pine Grove students and staff utilize the acronym HAWK which stands for Helpful, Aware, Willing, Kind to guide how to work together. Pine Grove facilities allow students to utilize the hallway and other open spaces for therapy. A courtyard garden, kitchen and laundry area enable practice and incorporation of daily living skills into learning. In addition to alignment with the Michigan Essential Elements and the Michigan Curriculum Framework, an emphasis on communication and activities of daily living are embedded in teaching and learning at Pine Grove.
Pine Grove's Students
Students at Pine Grove are in grades Kindergarten through age 26. Each student qualifies for special education and has an Individualized Educational Plan (IEP). Most of the students' learning needs are in the areas of severe multiple impairment, cognitive impairment, and Autism Spectrum Disorder.
Joining the Pine Grove Family
Students are referred to Pine Grove from their resident district.Enrollemnt begins with the student's district of residence.
Contact:
Pine Grove
Learning Center
2101 52nd Street SW
Wyoming MI 49519
616-410-4900
Administrative Assistant:
Daniela Parker
danielaparker@kentisd.org