Regarding STEM Technical Assistance
Regarding our STEM Technical Assistance
"You have a gift of not only having comprehensive technology knowledge, but presentation skills that totally engaged our middle school kids...not an easy task!"
Katherine Lewis
Technology Teacher
Northview Middle School
Health Career Internship
Before this experience, I was planning on going into physical therapy, however, now I am seriously considering becoming a registered nurse. I love how the nurses get to establish connections with their patients and know that they are making a difference in their lives by helping them get better. I'm very grateful to have been able to do this because it opened a new door for me in my exploration of health careers that would suite me. This opportunity also allowed me to realize some of the career paths that wouldn't have been right for me, such as a radiologist technician. Many of the RN's and PCA's I shadowed gave me some great advice about how to handle nursing school and some important steps I should take after I finish college and begin to move into the work force.

Thank you for the role you played in this amazing experience. It has been very influential and I learned a great deal of advice and information.

Brooke, Grandville High School senior (placed at Mercy Health)
This Health Career Internship has changed my perspective on my career choices. I am now more outgoing and confident when communicating with the employees at the hospital.
Amanda S. , Forest Hills Eastern senior (placed at Spectrum Health)
Employer Mentor
An Excerpt from an Email Written by a Student to an Employer Mentor
I visited Steelcase for Talk&Tour through Kent ISD on October 6 and talked to you briefly about college afterward.

I first would like to emphasize that I had such an invaluable night at Steelcase. It was an eyeopening opportunity to look at mechanical side of manufacturing industry! Thinking about what I would like to study and where I envision myself in the future, I thought observing what you do at work would help me a lot! I am extremely curious about various engineering fields and career paths that I can potentially choose. With that being said, may I please shadow you for a day?
MFG Week 2016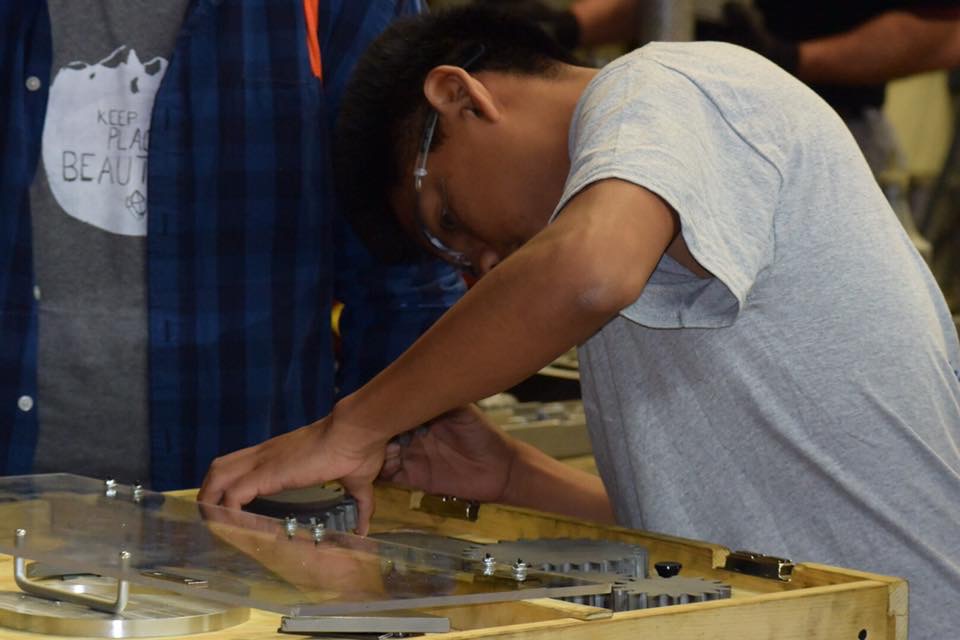 Gideon Sanders, Assistant Principal, GRPS Innovation Central shares his thoughts about MFG Week 2016 and the experiences his students gained.
---
" I cannot thank you enough for setting up this industry tour. The students talked about the trip for the rest of the year....they thought it was one of the most valuable experiences in high school."

Donna von der Hoff
Thorapple Kellogg High School teacher
---
"Thank you for setting us up with Ross. He met with my daughter, spent a lot of time answering questions and talking about his experience. He loved her work and asked her to potentially intern, help on a few projects in the next year. Thank you for the connection! It's just what she needed!"

Nicole Meloche-Gregory
​Organik Consulting, parent of a participant
Industry Tours
---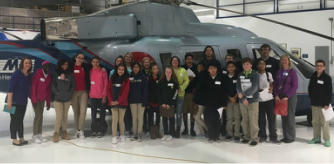 ADAC Automotive recently worked with the STEM consultants to produce a three minute video to expose kids to metrology careers. They shared the work on their LinkedIN page!
Thank you so much for letting my class experience the fun career paths. My favorite was totally going to Aero Med. If it wasn't for you, I would have never thought to become something in the medical field!

Elizabeth Novoseltseva
​Ridgepark Charter Academy Industry Tour
---
You made me think about what I truly want to do. Even though I haven't made up my mind, I extremely appreciate the options and choices that you have given to all of us and hope that you will do this again in the future. I will strive to find a job that suits me like yours suits you.

Mitchell Porter
​Ridgepark Charter Academy Industry Tour
---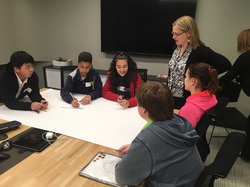 Yesterday really gave me a chance to see a different view on engineering. I know in my heart for sure I won't be an engineer, but I want to thank you for giving me the opportunity to see why jobs like these matter to so many people. You helped me to find a new respect for engineering.... It has been a pleasure to see the joys of your career and many others, and hopefully in the future I'll find mine.

Jahdia Lewis
Ridgepark Charter Academy
Industry Tour
---
"I thought the lesson was great and I love how it connected a science concept with something in the real world."

Jenell Spindle, Kindergarten teacher
Collins Elementary
Forest Hills Schools
Explorers Program
"I know it's been a few years, but I was one of the students who went through the first run of Engineering Explorers at KCTC. Just wanted to thank you again for putting that great opportunity in motion. I just finished my freshman year of college at the University of Alabama on full tuition, and I'm back in Grand Rapids for a summer internship. I'm actually working at Swoboda, the company I was first placed with, about three years after job shadowing here. Not only did the program help cement my career goals, but it also helped me get my foot in the door for a job. If there's ever anything I can do for you, just let me know, and I'd be more than happy to help. Thanks again!"

Christina W.
Student participant in Explorers Program
3D Printing
" Our fifth grade PEAKS students spent nearly two hours with Mr. Mushing on March 10 when he came to present on the engineering design process and prototyping. In his wake, he left our students with a 3D printer and all of the software and program directions necessary to make use of this 21st century resource.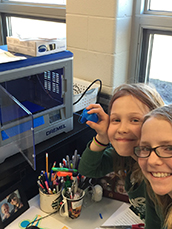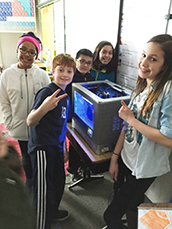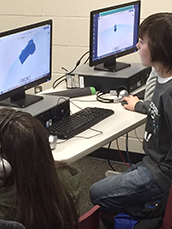 Many experts say that 3D printing has the potential to impact the world in tremendous ways, from supply chain to personal use in the home. We would like to thank the KISD team once again for their collaboration and intentional efforts to support​​ our students with cutting edge, 21st century, STEM learning experiences."

Eric Closson
Discovery Elementary
Kentwood Public Schools
Employer Mentor Appreciation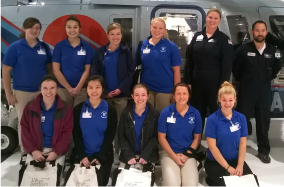 "I just wanted to let you know that Meredith was an absolute pleasure. She was very excited, completely engaged, highly intelligent, and a joy to work with. I was actually going to offer her a 'summer help' position, but we knew she already had a job lined up in Chicago for the summer ... She will be an excellent nurse someday. I see big things in her future. On a personal level, she has actually inspired me to possibly take the leap into teaching nursing students at the collegiate level. I have always wanted to do so, but seeing her young engaged mind and attitude, was so refreshing and again, inspiring."
​
Caitlin Boudreau RN, BSN
Clinical Nurse Manager, Grand Rapids Allergy
Job Shadowing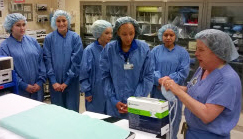 "No amount of words can describe how great of a time I had yesterday learning about the OR. I didn't realize how many jobs went on in just one operation. Just as I thought maybe I'd want to deal with pre-mature babies, yesterday's experience has me questioning that maybe I want to work in the OR. I wish I could do job shadows at the hospital all the time. It's people like you that give kids like me life changing opportunities and make my thirst for medical become even stronger then before. Thank you so much for your willingness to teach me about the OR. "

​Abby
Grandville High School student
---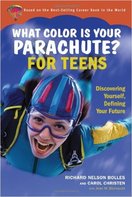 "I saw a post on LinkedIn about your Job Shadowing program. I followed it to your website. Wow! Do you people have it together... I am so impressed. Lucky students who have access to Kent ISD."

Life's best, Carol Christen
(Author of What Color is Your Parachute? for Teens)
Video Testimonials
Middle School science teacher Tyler Buitenwerf of Creative Technology Academy in Cedar Springs, MI relates the impact of the Kent ISD STEM consultants on his school.
High School Science Teacher Jaclyn Hartman of Forest Hills schools in Grand Rapids, MI relates the impact of working with the STEM consultants on her students.
Upcoming Events
March 13
Groundhog Job Shadow Day
Groundhog Job Shadow Day
Calendar:
Career Readiness
Have you started to look around your classroom and wonder, "What's Next?" or dream about the job you will do after high school? Are you interested in pulling back the curtain of the world of work and spending the day with a mentor? If you answered "yes" - #GSD20 is for you!
When: March 13, 2018
Time: 9AM - 2PM
Where:You get to choose the role that is right for you - there are almost 300 roles to shadow for the day! Click here for more GSD 20 information!