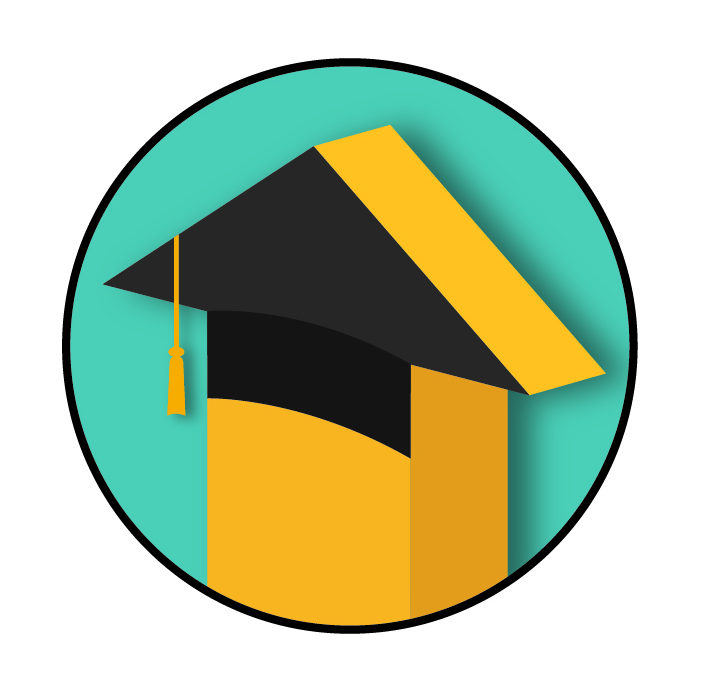 Many students, as well as parents/guardians, are worried about incurring college debt. That's a real concern and it can be overwhelming! While college debt is a growing national crisis, there are a number of strategies to help you pay for post-secondary (after high school) training, whether it is a short-term training option or an advanced degree. Investing in college education will provide higher lifetime wages, more resilience in an economic downturn, and better health outcomes too. Reviewing all options will help families make an informed decision and may help prevent unnecessary and unwanted debt.
Here are a variety of ways to pay for college:
Short Term Training & Certification
For many good paying jobs, earning a short-term industry specific certificate is the best option. In just 12-18 weeks you will have the skills needed to enter the job market and start earning money without a lot of debt. Job training sessions start every few months. These training programs are very hands-on and allow you to apply your new knowledge immediately. Training programs include Automotive, Construction, Health Care, Law Enforcement, Manufacturing, Information Technology and more.
Short-term training in the Kent County area
Article: Free Training Programs in Grand Rapids, MI to Help You Get a job (quickly)
Community College
Community colleges are a valuable community asset and offer students a way to earn college credentials at a fraction of the cost of other institutions. In addition to offering certificate and associate degree programs, students interested in earning a bachelor's degree can utilize the Michigan Transfer Agreement to maximize benefits, saving tens of thousands of dollars. The MTA is designed to facilitate the transfer of 30 general education requirements from community colleges to four year colleges.
Our friends at Virtual Job Shadow outline 10 Reasons to Attend a Community College in this detailed article.
Local Community Colleges
Tuition Reimbursement
Why not let the employer pay your college bills? Believe it or not, many employers offer tuition reimbursement to their employees. The length of employment, and the number of hours worked per pay period, will affect eligibility for these benefits. While not always listed on company websites, many local employers, in a variety of fields, offer this benefit to their employees. It is an excellent retention benefit, so more and more companies are offering tuition reimbursement these days.
Here are some National Companies that Offer Tuition Reimbursement. McDonald's, Burger King,and most other entry-level employers, should also be added to this list.
Locally, there are a wide variety of employers that offer this benefit, including municipalities, hospitals, education institutions, manufacturers, and more. While we don't have an official list of local companies, CareerJet, a job search website, has a current list of 100 Tuition reimbursement jobs.
Article: What is Tuition Reimbursement and How Does it Work?
Employer-based programs & On the Job Training
In today's job market, employers are eager to hire good workers and develop specialized skills to meet the needs of the company. Many offer in-house training programs that provide hands-on training and, at the same time, help pay tuition for college credits leading to a degree. These programs are not formal apprenticeships, but allow employees to work while they earn, while also going to college, for free. Unfortunately, there is not a comprehensive resource that outlines employer's in-house training programs, but many companies have them. As you research potential employers, be sure to ask about in-house training and what growth opportunities may be available.
Created to address the talent shortage the region is experiencing in the field of manufacturing. Local companies provide a full scholarship for students to obtain an Associate Degree while working for the sponsoring company.
Military
One great way to avoid taking on college debt is to enlist in the military. Not only does the military provide students the opportunity to serve their country, but it also provides excellent training and has educational benefits that can pay for college. Students must commit to serving for a period of time and, in exchange, the Military pays for their education. The average commitment is 4 years, with additional years service in the Reserves. While each branch of the military has different educational benefits, most are very generous and should be researched and evaluated thoroughly before committing to this option. Primary benefits include tuition reimbursement and student loan repayment.
Here are links to the educational benefits webpages of each branch:
Specifically for Veterans
After completing military service, education benefits are also available to help pay for tuition and fees, housing, books and other expenses associated with education. Through the GI Bill, now known as the Post 9/11 GI Bill, the cornerstone of military educational benefits for veterans, our military service people have access to money for undergraduate education, graduate school and other training programs. In addition, veteran's families may also be eligible for benefits. Since 1944, this program has been a valuable source of support helping service people gain an education for the next step in their lives.
FAFSA
The first step to accessing any grant or scholarship is to complete the FAFSA (Free Application for Federal Student Aid) form. The FAFSA collects financial information on both the student and their family, resulting in a formula that helps determine eligibility and the level of aid awarded. The FAFSA is the key to accessing federal student financial aid, including work study, Pell grants (free money!), and loans. In addition, states and colleges use FAFSA information to award their own grants, scholarships, and loans. The FAFSA site has a full list of publications, fact sheets, online tools, and other resources to help you prepare and pay for college.
Students are encouraged to complete the FAFSA form, even if they don't think they qualify. According to NerdWallet, over $2.6 Billion dollars was left on the table by students that would have qualified for Pell Grants, which is FREE money for college.
In Michigan, the application is available in October and must be completed by March 1. Check with your school counselor to see if they offer a FAFSA Parent Night to support families in completing this important application.
Scholarships and Grants
Scholarships and grants are FREE money given to students to cover education costs. Scholarships are awarded for a variety of reasons, including achievement in academics or athletics, association with a particular organization or activity (i.e. employee at McDonald's or participant in Science Olympiad) or even through a generous alumni or benefactor. There is nothing better than utilizing scholarships to pay for college because it doesn't have to be paid back. With some scholarships, students are required to maintain a specific GPA, demonstrating they are effectively using the money as it was intended, to get a college education.
Accessing scholarships and grants is a lot of work, but is worth it. Researching to find scholarships, completing lengthy applications with stringent deadlines, and follow up communications, are part of the process.
The following websites have curated lists of the top web-based resources for identifying a wide variety of scholarships:
Also, students should check directly with the financial aid office at the colleges they are interested in attending. They maintain a database of scholarships that are specific to their college, or the local community. Students can also use google as a tool. By putting in the name of their city and state, along with the word scholarships, local resources will populate and give some valuable results.
Please Note: Be aware of scams. Legitimate scholarships will never ask you for any type of fees.
Student Loans
If you decide to borrow money for your college education, be sure to thoroughly understand the different types of loans available, federal or private, including the terms and conditions. Being educated up front could save you tens of thousands of dollars later.
Federal loans are by far the best choice, based on the benefits they provide to the student borrower. We recommend you visit the Department of Education student loan website to get full details of Federal Loans.
If you have exhausted your Federal Loan Options, private loans are your second alternative. NerdWallet has assembled a list of their 15 Best Private Student Loans of 2020 list.
Public Service Loan Forgiveness
The Public Service Loan Forgiveness program discharges any remaining debt after 10 years of full-time employment in public service. The borrower must have made 120 payments as part of the Direct Loan program in order to obtain this benefit.
This scholarship is for students interested in teaching in a high need field, in a low income area. Usually a four year commitment. If students don't complete the 4 year commitment, it becomes a loan.
Apprenticeships
You can earn college credits through this "earn why you learn" option. That's right; NO college debt. Apprenticeships give you the opportunity to develop specific industry skills while you work, in combination with classroom training. Instead of accruing college debt, you will be earning a competitive wage and benefits!
Apprenticeships are offered in a variety of fields. Formal apprenticeship programs usually last about 4 years, depending on the employer or occupation, although they may take as little as 12 months or as many as 6 years. To make sure you are getting the best training, the apprenticeship should be registered with the U.S. Department of Labor (DOL).
BENEFITS TO APPRENTICESHIPS
A paycheck from day one
Hands on career training
An education and the potential to earn college credit
Higher wages as skills increase
A career once you complete your apprenticeship
National industry certification
Here is a helpful Apprenticeship Fact Sheet provided by the Federal Government.
Need more information? Check out the following resources: