Be part of the solution!
Help us put a 3D printer in every district, and eventually in each of their schools, across Kent ISD!
This key printing technology is revolutionizing multiple industries and dozens of career fields. This technology is also becoming a great learning tool for STEM - science, technology, engineering and math. Teachers are eager to use 3D printers to teach STEM concepts and students are eager to learn, but the equipment and supplies are an expensive "extra" for school building budgets.
Kent ISD and Dremel are teaming up with West Michigan businesses to bring 3D printers and maker-spaces into schools throughout the region with the 3D Printer Challenge. Businesses can adopt a school and interact with students, bringing real-world experiences and hands-on learning into the classroom by donating the resources necessary to place a Dremel 3D printer into schools. Together, local companies, Dremel and Kent ISD will help students dream, design, and learn.
"3D printers create a wow factor in the classroom and makes STEM education more tangible by utilizing modern production techniques to conceptualize, design, then create." -- Kevin Stotts, President


Join the 3D Printer Challenge today:
Select a district/school to receive a Dremel 3D printer
Contribute $3,000 to purchase a printer plus enough printing supplies for a classroom of eager learners
Get Involved! Partner with teachers to present lessons that solve real-life problems and share valuable information about STEM-related careers
Get recognized with your organization's name on our webpage, on the printer in the classroom and at the annual Partner Breakfast from the Career Readiness Department. Plus, you'll get thank you's from students who will share what they've created and learned, thanks to your sponsorship
The sooner students experience 3D printing, the sooner they will be able to use this unique learning tool as a way to innovate and solve problems, and along the way learn principles of design, mathematics, physics, art and technology.
See how 3D printing is making an impact in classrooms as featured on Maranda Where You Live on WOTV4 Women and eightWest on WOOD TV.
How 3D Printing Expands Learning
Bringing Ideas to Life

Estella has plans to do her part to save the planet.
Elijah is developing an idea to create a car that can run autonomously and by an operator at the flip of a switch.
Thomas saw his brother's fidget spinner and knew he could build a better one.
All of these students are turning the ideas they are imagining into tangible products with 3D printing. Estella's invention is aimed at ridding the planet of non-biodegradable plastic sandwich bags she sees scattered all over tables at lunch time each day. She designed, then created, a plastic version that is re-usable and even embellished her prototype with her monogram.
Elijah teams up with his design partner Nashia, another 8th grader with engineering on her mind. Together, they work through potential road blocks to get the car of the future they imagine into actual production. Thomas has already sold dozens of better-than-his-brother's fidget spinners, helping his classroom secure almost enough funding to buy their own 3D printer so it can be a permanent part of their classroom experience.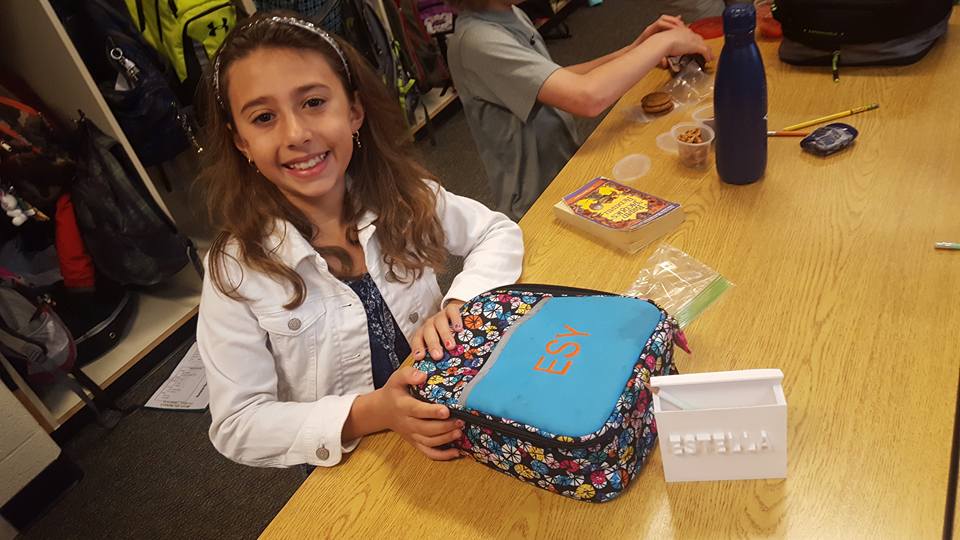 "It is always challenging to expose students to the basic thrill of the manufacturing industry- producing something you can touch. 3D printing brings to the classroom the design, manufacturing, assembly and finished goods functionality in a wonderful hands-on experience.
Hopefully, this will spark a thrill that will lead to rewarding careers down the road."
-- Jay Dunwell, President of Wolverine Coil Spring & Chair of Discover Manufacturing

Bosch, the parent company of Dremel, is offering an opportunity to bring high quality, low cost 3D printers into schools as part of a nationwide educational effort to boost STEM learning. George Valez specializes in business development for Dremel, but his real passion is seeing how 3D printing sparks students' imagination and unleashes new potential for problem solving. "The way students are learning to problem solve through trial and error is the same way we apply design thinking to the work that we do. The printer we're putting in their classroom is the 756th model we've tried. We are always re-designing to get it right, just like they are doing with the models they make from their own imaginations."
The opportunity to learn through 3D printing is in its infancy. Models are being made now to show the structure of DNA, to match perfectly a knee replacement plate to a human bone without removing it, to virtually place a building on an empty block before it's built. Students who encounter 3D printing early in their education see how modeling is an integral element in problem solving. It also encourages team building with every participant able to make improvements and add input throughout the process.
Teachers are Learning Too!
Liz Miller, fourth grade teacher in Forest Hills, borrowed a 3D printer from Kent ISD's STEM Consultants. "The kids are using geometry, problem solving and teamwork to make their designs work. And I'm discovering new solutions right along with them. They teach me new things every day!" she says.
East Kentwood High School biology teacher, Nicholas Bihler, sees his students branching out beyond where their text books could traditionally lead them. "With hands-on application using 3D printing, what I teach them about the plant world or human anatomy takes on a new dimension," he says. "I can't imagine going back to teaching without it. Students find ways to use it with everything I teach."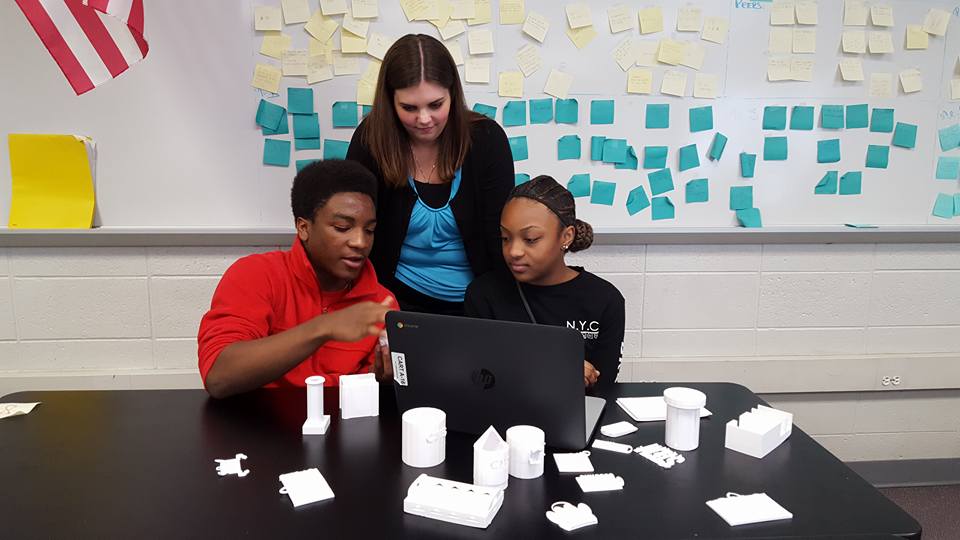 3D Printing Points to Careers for Students
Bill Gates once said, "Be nice to geeks. You'll probably end up working for one." The co-founder of Microsoft understood the changing role of technology for the jobs of the future and so do West Michigan businesses. That's why introducing the next generation of workers to cutting-edge innovations like 3D printing makes sense. Businesses are now partnering with teachers and students long before they graduate to prepare them for the jobs of the future.
Job growth is expected in these key areas:
S Science: Biology, Astronomy, Ecology, Physics
T Technology: Computer Science, Automotive, Operations, Architecture
E Engineering: Mechanical, Aerospace, Environmental, Robotics
M Mathematics: Statistics, Finance, Cryptography, Modeling
According to the U.S. Department of Commerce, over the past ten years STEM jobs have grown three times as fast as non-STEM jobs. The key to many of these new positions will be 3D modeling as it combines computer skills with problem solving and imagination. Using 3D printing in education brings in elements of geometry, design and logic along with creativity and exposure to innovative career opportunities. Help us bring 3D printing, design and modeling into every district to get students excited about future STEM jobs!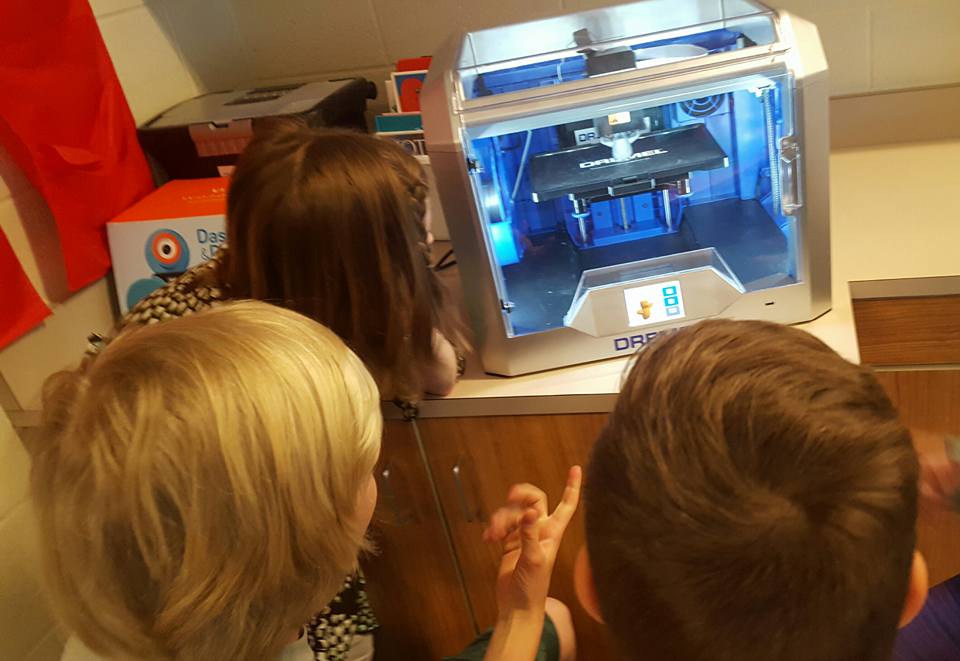 "Most students have never seen a 3D printer and now they have experience with the program and how to use it. This could open up their interest in any type of STEM Career. As a teacher with a Math degree, I always pictured that I would be a traditional math class. However, the 3D printer is an absolutely amazing tool to teach Math and all types of concepts. Instead of just learning how to measure or about scale, students can actually put it into practice! This is a great tool for Project-Based Learning."
-Breanna Yarnott, STEM Enrichment teacher at Crestwood Middle School in Kentwood
Info for Educators
Interested in a 3D Printer for Your School?
It's simple and local businesses and organizations are eager to help!
Our first goal is to get one sponsored printer in each of our 20 public districts. Once that's accomplished (and we're halfway there now), we hope to help every interested school building in those districts receive a printer.
Now is the time to get on the waiting list! Contact us via the online form to let us know you're interested. We'll get back with you to gather more information and make sure your school agrees to 1 requirement -
Invite your sponsor to visit the classroom and get involved! The sponsor organizations are passionate about education and helping prepare kids for future careers. They want to do their part to help you help your students!
Once we get your building principal's signature on our commitment form, we'll put your school on the list of interested and available schools for sponsors to choose from!
If you don't want to wait for a sponsor to find you, you can find the sponsor! Talk to your PTO, school foundation or a local business that's supportive of your school and send them here - 3Dprinter.kentisd.org. They can indicate their interest and get more info, or commit on the spot and name your school as the one they wish to sponsor!
Stories of STEM in our Classrooms
STEM Learning Happening in Classrooms Across Kent ISD
And from Maranda Where You Live...
Take the 3D Printer Challenge Today
Ready to Join Us?
Our goal is to bring 3D printers to every public school district in Kent ISD and, eventually, into each school building. Find a list of all of the schools currently in need of 3D printers and take the challenge today!
For Kent ISD Educators:
Thank you to our Sponsors