KTC CORE PROGRAM

Kent Transition Center (KTC) offers a new, innovative program designed to meet the needs of Kent County's secondary students that are not yet prepared for independent, competitive employment, which is an enrollment requirement for KTC. The CORE program will better prepare (empower) students for adult life by working mainly on career and employability skills, but also teaching them to invest in their community through community participation, and when needed, provide instruction with semi-independent living skills.
The main components of the program are:
Functional Academic Skills

Pre-Vocational Skills

Vocational Skills

Communication Skills

Interpersonal Skills
Additional components:
Semi-Independent Living Skills

Leisure Skills
The location for this class is off-site at Mary Free Bed YMCA (5500 Burton Street SE, Grand Rapids, MI 49546). The Mary Free Bed YMCA is a revolutionary new facility designed with everyone in mind. We are happy to be partnering with them in using their facilities for our classroom and collaborating with them for hands-on experiences for our students.
Biography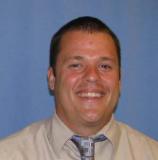 Michael Spagnuolo has over fifteen years of experience working with students in Special Education Programs throughout Kent County. His mission is to improve the lives of every student that he is privileged to work with. Before creating KTC CORE, Michael was a Work Based Learning Facilitator at KTC (Region 1 and 2). Previously, he started the R1TS 1 Program at Rockford Public Schools, and was a Child Care Worker at GRPS for ten years (KEC Beltline & KVO). In addition, he completed his student teaching experiences at GRPS, Northview Public Schools, Forest Hills Public Schools, and Caledonia Community Schools.
Mr. Spagnuolo implemented the first KTC Paid Summer Work Program over the summer of 2016. Michael graduated from Grand Valley State University with his Special Education degree with endorsements in Emotional Impairment, Cognitive Impairment and Elementary Education. He values being a lifelong learner and implements best practice in his program. He is a positive and energetic teacher who creates a warm and welcoming learning environment.. Mr. Spagnuolo is looking forward to teaching the fundamental Career and Employability skills necessary for a successful career.
Michael and his wife, Melanie, have two sons named Dominic and Isaiah. They enjoy spending time with family, especially their thirteen nephews and nieces who reside in Kent and Ottawa County. In Michael's spare time, he enjoys yard work, cooking, reading, traveling, hiking, camping, and working on projects around the house. He believes that being positive is contagious, and it promotes the proper learning environment for a successful system. Mr. Spagnuolo is ecstatic to be the KTC CORE Program Instructor!