Parent and Student Resources
GGRSB Parent/ Student Resources
Is your child interested/decided to be a part of the Spelling Bee?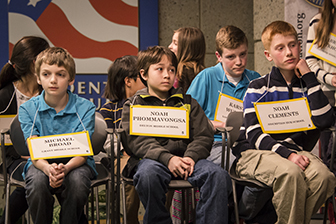 Below you will find information and resources to help any Spelling Bee Contestant. Check back for updates.
2018 Regional Sites Information - available NOW! Click here for more information.
Join us for the Greater Grand Rapids Spellng Bee
Tuesday, March 27th, 2018, 6:30 pm
Gerald R. Ford Presidential Museum
303 Pearl Street, NW, Grand Rapids, MI 49504
Beeweek
In 2015, the National Spelling Bee took place in May. But the Scripps Howard National Spelling Bee actually starts months before, as, every year, competition is narrowed at school, local, and regional events....READ MORE to find out more information .
How It Came to Bee
The National Spelling Bee was launched by the Louisville, Kentucky, Courier-Journal in 1925. With competitions, cash prizes, and a trip to the nation's capital, the Bee hoped to stimulate "general interest among pupils in a dull subject."...READ MORE.
What's a Bee?
The word "bee" has long been used to describe a busy gathering of people who come together for a special purpose, such as quilting, spinning, logging, or raising a barn. "Spelling bee" ...READ MORE.
Check out the winning words that made spellers into national champions the past two decades. Then test your spelling savvy with our spelling quiz!