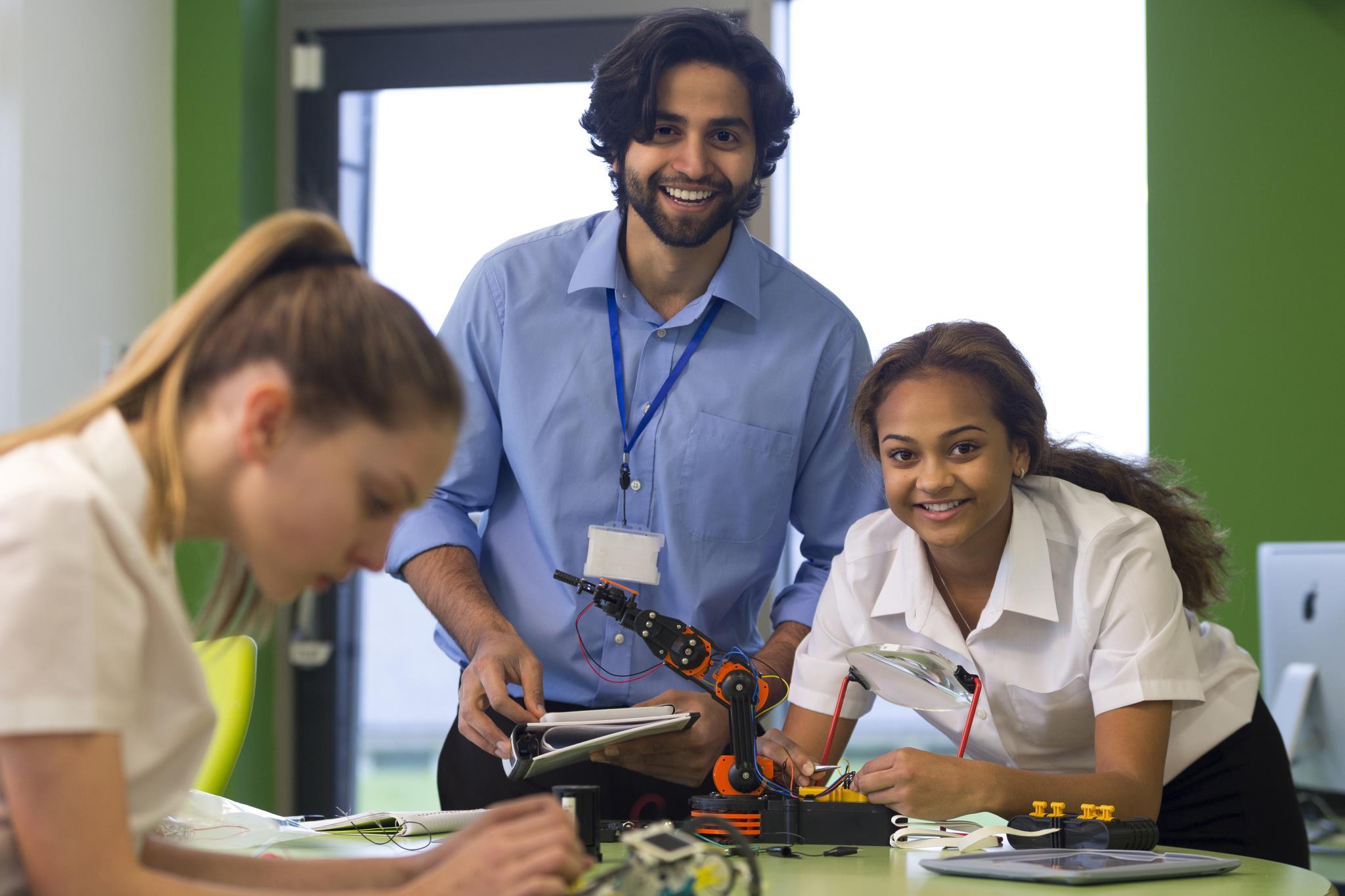 INTRODUCING -Launch U,
a hands-on early college program from Kent ISD
This degree and certificate program is designed for tinkerers, inventors and those who love to take things apart – just to see how they work. Sound like you?
Launch U offers students a quick path to an Associate Degree AND a job, in a growing field full of high tech tools like robots and industrial lasers. The program starts in 10th grade, continues through high school, provides industry certificates along the way – and with just one more year – a specialized Associate Degree from Grand Rapids Community College.
And it's all tuition-free – a savings of about $10,000 while earning this Associate Degree.

With the Help of Local Employers
Staff from local companies are helping create Launch U, which will feature key industry connections with students, like:
Behind-the-scenes workplace tours
Job shadows in different companies and fields
Industry certificates (approved by local companies) to demonstrate specific skills to employers
​Internships with area employers
And perhaps most importantly, for students who complete the program – potential jobs and good careers with advancement will be waiting.
Start your future today with Launch U. Contact us at: (616) 447-5670
Course Examples
This hands-on early college program will offer several career paths, each with its own set of courses. The paths include Mechanical Design, Industrial Technology and Tooling/Manufacturing. Example courses are drawn from each of these paths.
10th: Regular HS Classes 11th: Regular HS Classes 12th: Regular HS Classes
Plus options like: Plus options like: Plus options like:
Mechanical Power Transmission Advanced Engineering Graphics Die Design
Mechanical Concepts Metallurgy Welding
Blueprint Reading Industrial Graphics with CAD Digital Logic
A complete list of courses will be available soon from your high school counselor or Kent ISD coordinator.
A Bright Future Ahead
This course of study leads to scores of different careers – each one with a path aimed at good jobs in the high tech and high skill workplace. Local employers need about 12,000 people to fill jobs in these fields in the next few years, so there is a bright future ahead for students in this new program.
West Michigan needs your talent! Come be a part of the regional talent base and talk to your school counselor today about Launch U, the early college program from Kent ISD.

Employment information courtesy Talent 2025.
Information on careers related to Launch U and hundreds of other careers is available on the Department of Labor's resource site.
How to Enroll
It starts with you!
Print out the flyer and fill in the ticket at the bottom. Take this to your school counselor and let them know you'd like to sign up. The counselor completes enrollment in Kent ISD's system, just like other student programs. If you have difficulty enrolling, call (616) 447-5670.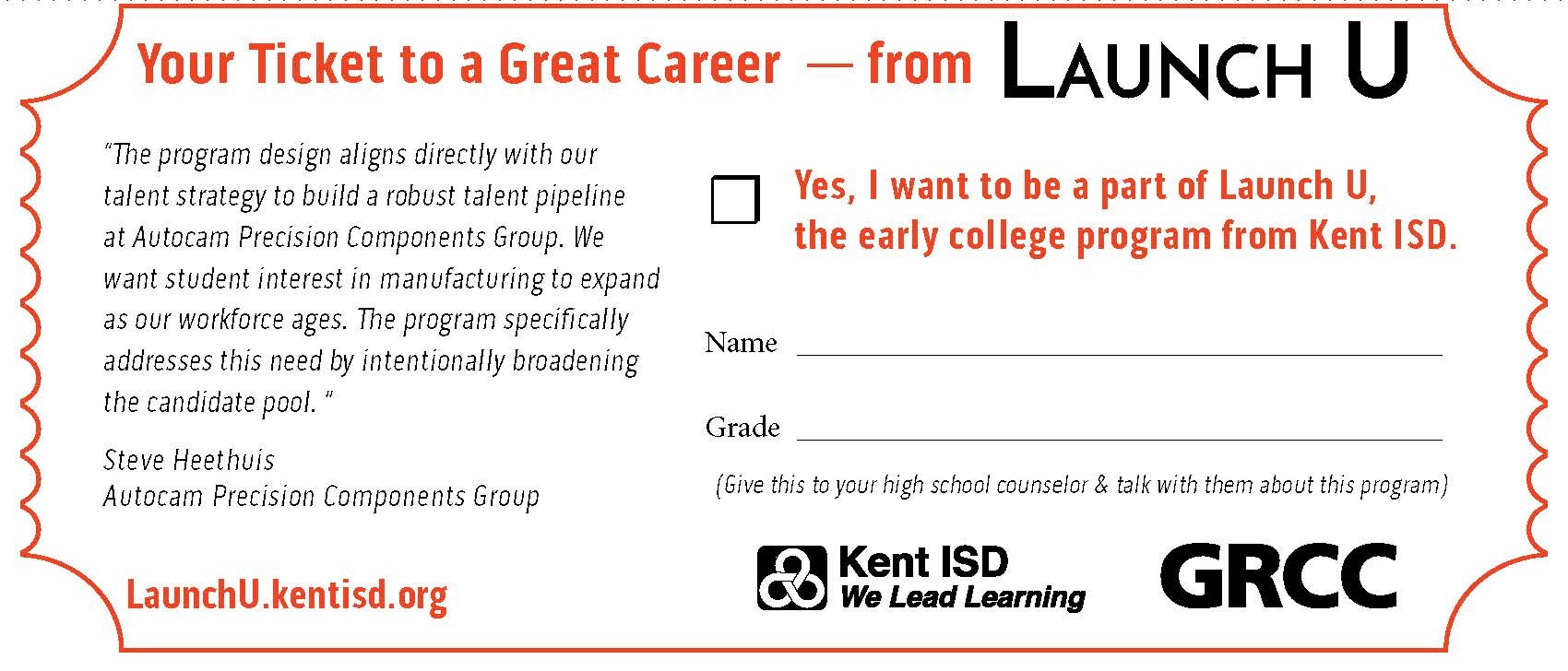 Is Launch U
for you?
LaunchU is for the students who are curious explorers, the tinkerers who love taking things apart to see how they work. They create games and wallets out of duct tape, fix the drawer that won't close, make new inventions out of spare parts that actually work.
Parents of these students likely tell stories about toasters, computers and electronic gear taken apart on kitchen tables.
Launch U students enjoy seeking solutions and experimenting until "it works." These students have a drive to master the mechanical and electronic products that infuse our world.
If this sounds like you, please join us! Contact us at: (616) 447-5670
See our flyer here. If you're interested in enrolling, print it out and take it to your counselor.
Designers of Launch U:
Laura Elsner, HR Manager, DeWys Manufacturing
Steve Heethuis, Training Director, AutoCam Precision Components Group
Steve Harvey, Principal, Forest Hills Eastern High School
Steve Gough, Principal, Comstock Park High School
Lisa Jacobs, Executive Director of Community Services, Early College Coordinator, Rockford Public Schools
Brady Lake, Principal, Caledonia High School
Amy Koning, Associate Dean of Operations, School of Workforce Development, GRCC
Dan Clark, Dean of Lakeshore Campus and Academic Outreach, GRCC
Rusty Anderson, Mathematics Consultant, Kent ISD
Jarrad Grandy, Director of Career Readiness, Kent ISD
Bill Smith, Assistant Superintendent, Kent ISD
Ron Caniff, Superintendent, Kent ISD