Great Start to Quality Orientation
Relative Caregivers and Day Care Aides - You are now required to take the Great Start to Quality Orientation to continue receiving payment from the State of Michigan to care for children. YOU MUST REGISTER TO ATTEND THIS TRAINING - SPACES ARE LIMITED!
Go to www.greatstarttoquality.org and click on "Training" to find a training date and location. Or, call our office at 616.447.5678
Michigan's Office of Great Start with the Michigan Department of Education.
A new office in Michigan to oversee early learning. Learn more!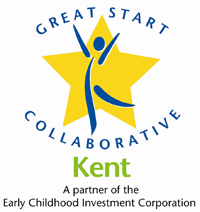 The Great Start Collaborative of Kent County is a group of local professionals and parents who are working with First Steps and others in the community to help ensure all children have a GREAT START in life.
Our local Collaborative is part of a network of 55 Great Start Collaboratives working in every county in Michigan. The Great Start system is funded by the Early Childhood Investment Corporation , a public corporation formed in 2005.
There is a Great Start parent Coalition affiliated with every Great Start Collaborative, providing parents with an opportunity to inform, shape, and support the early childhood work in their community. Please click here to learn more about the Great Start Parent Coalition in Kent County.
For more information about the Great Start Collaborative, contact GSC Director Judy Freeman at 616.632.1019 or jfreeman@firststepkent.org