Kent ​ISD Diversity Initiative
Vision
Kent ISD will be a place where all persons feel welcomed, have a right to be treated equitably and without prejudice, and have a responsibility to treat others the same way.
~ Resolution adopted by Kent ISD Board on December 14, 2009
Working Together
Kent ISD school districts are building systems that Understand, Respect, and Embrace Cultural Differences by:
Providing curriculum and instructional programs that are culturally inclusive.
Fostering staff and students who have the will and ability to build relationships across differences.
Promoting the healing of racism and other forms of intolerance.
12th Annual Diversity Kick-off
Excellence Through Equity: Five Principals of Courageous Leadership to Guide Achievement for Every Student
Held August 20, 2015
Keynote Speaker: Pedro Noguera, Ph.D.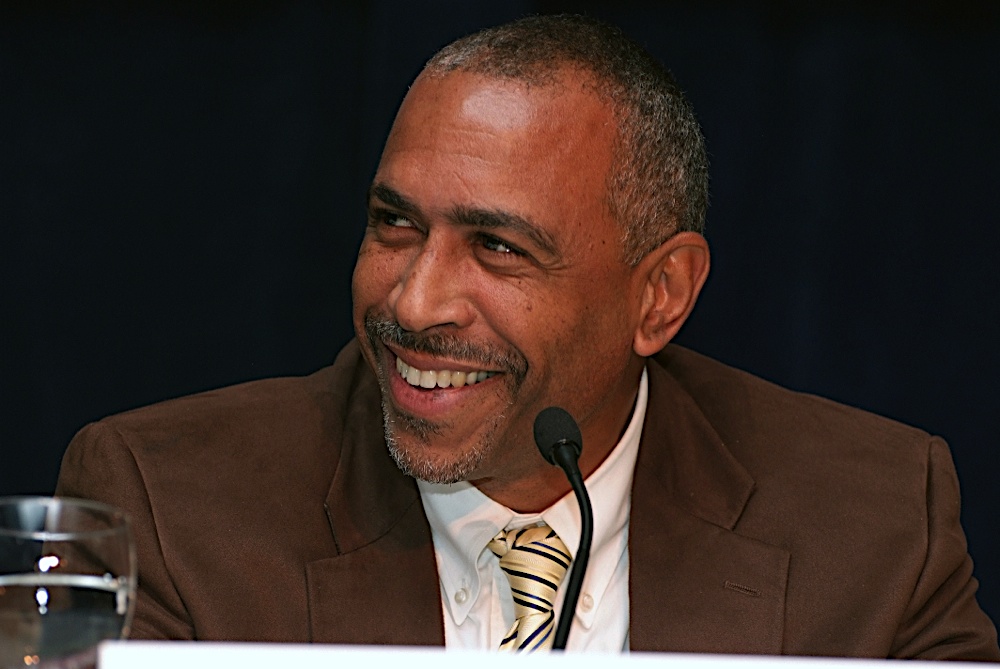 Pedro Noguera is the Peter L. Agnew Professor of Education at New York University. He holds tenured faculty appointments in the departments of Teaching and Learning and Humanities and Social Sciences at the Steinhardt School of Culture, Education and Development at NYU. He is also the Executive Director of the Metropolitan Center for Research on Equity and the Transformation of Schools. Dr. Noguera is the author of eight books and over 200 articles and monographs. His most recent books are "Excellence Through Equity", "School for Resilience: Improving the Life Trajectory of African American and Latino Boys", "Creating the Opportunity to Learn" with A. Wade Boykin (ASCD, 2011). Noguera recently received awards from the Center for the Advanced Study of the Behavioral Sciences/Sage for outstanding achievement in advancing the understanding of the behavioral and social sciences as they are applied to pressing social issues, the National Association of Secondary Principals for distinguished service to the field of education, and from the McSilver Institute at NYU for his research and advocacy efforts aimed at fighting poverty.
Diversity Kick-off Powerpoint Presentation

Diversity Kick-off Presentation PDF

Community Evening Event
The Achievement Gap and The Schools We Need
Held August 20, 2015
Creating the Conditions Where Race and Class No Longer Predict Student Achievement.
Pedro Noguera Evening Powerpoint Presentation

Pedro Noguera Evening Presentation PDF

Professional Development Opportunities:
Facing Racism with Grand Rapids Area Chamber of Commerce


The Facing Racism and Institute for Healing Racism offers an intensive two-day experience. Because racism is a powerful force in our lives and community, the Institute challenges participants of all backgrounds to be part of an equally powerful dialogue. We provide the safe space and neutral guidance needed to help that dialogue emerge.
Past Events:
11th Annual Diversity Kick-off Event

Reaching and Teaching Students in Poverty

Was held Thursday, August 14, 2014

Paul C. Gorski was our featured keynote speaker. Paul C. Gorski is an associate professor of Integrative Studies in George Mason University's New Century College, where he teaches classes on class and poverty, educational equity, animal rights, and environmental justice.

How might our strategies for teaching and relating with families in poverty change if we truly understood the barriers they experience - barriers that have nothing to do with their cultures or their attitudes about school or their desires to learn? In this presentation Paul C. Gorski provided key insights into those challenges, how they affect the school experiences of low-income students, and how educators can mitigate them by providing equitable, engaging learning environments.

Presentations available for download:
Poverty Quiz (pdf)
Poverty Quiz (ppt)

Paul C. Gorski's Keynote Presentation (pdf)
Paul C. Gorski's Keynote Presentation (ppt)

Aug. 14 - Title I Coordinators Workshop Presentation (ppt)
Aug. 15 - Reaching and Teaching Workshop Presentation (ppt)

Paul C. Gorski shared a chapter from his book Cultivating Social Justice Teachers book:
Teaching Against Essentialism and the "Culture of Poverty"

The appendix includes instructions for the Art Project activitie and click here for the Student Sheets . Contact Julie Mushing with any questions.
Contact
Julie Mushing
Diversity Coordinator
E-mail: JulieMushing@KentISD.org
Phone: 616-301-8847
Our Goal
The goal for our Diversity initiative is to focus the ISD and all of our districts on diversity and healing racism to improve student achievement. Strategies include leadership/coordination for county-wide efforts, educational opportunities and communication.
District Diversity Goals and Indicators (PDF)
District Diversity Rubric (PDF)
Definitions:
DIVERSITY is the existence of an environment in which there is an awareness and understanding leading to a valuing and embracing that many perspectives exist in the world.
HEALING RACISM is the condition and environment where racism is intentionally and actively addressed in individual attitudes and institutional policies/practices.
EQUITY is when all students receive the individualized support they need to reach and exceed a common standard.